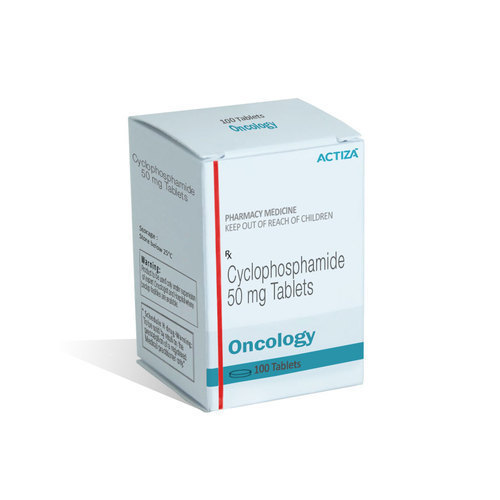 Cyclophosphamide Tablet
Product Description
Cyclophosphamide Tablet has been prescribed for treatment of leukemia, multiple myeloma, breast & ovarian cancer, and sarcoma. It is a chemotherapy medicine that can also be used for suppressing immune system of body for various purposes. This tablet is known to form metabolite phosphoramide mustard in cells having low ALDH levels and forms DNA crosslinks resulting in apoptosis. Active chemical used in its formulation has molecular formula C7H15Cl2N2O2P with molar mass of 261.086 g/mol. Cyclophosphamide Tablet has bioavailability of around 75% with protein binding ability of more than 60% and metabolism in liver. It gets excreted from kidney having elimination half life of 3-12 hours.
Product Details:
Minimum Order Quantity : 50 Box
Category : Breast Cancer, Lung Cancer
Certification : ISO 9001:2008, FDA, GMP
Dosage Form : Oral
Dose : 50 mg
Type : Allopathic
Uses

Cyclophosphamide is used in the treatment of ovarian cancer, breast cancer, non-small cell lung cancer and blood cancer
How it works

Cyclophosphamide works by damaging the genetic material (DNA) of the cancer cells and stops their growth and multiplication.
Common side effects

Rash, Reduced blood platelets, Headache, Dizziness, Convulsion, Myelosuppression, Coordination disorder.