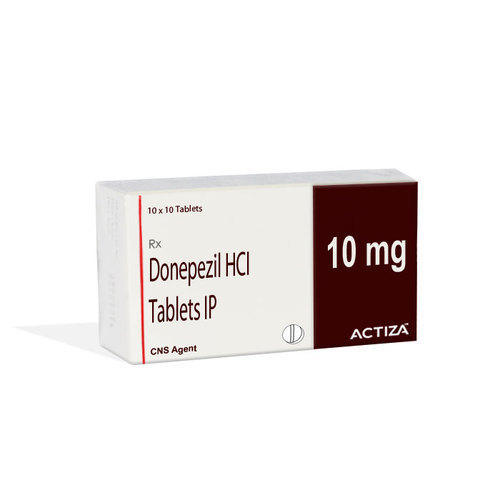 Donepezil HCI Tablets IP
Product Description
Donepezil HCI Tablets IP are indicated for treatment of Alzheimer's disease and improve cognition & behavior in people with this condition. Active compound present in these tablets has chemical formula C24H30ClNO3 with molar mass of 415.958 g/mol. They show bioavailability of 100% with protein binding ability of 96%. These tablets are known to work by reversibly inactivating cholinesterases and inhibiting acetylcholine hydrolysis. They are known to have elimination half life of about 70 hours with targeted mode of action. Donepezil HCI Tablets IP are piperidine derivative and considered to have neuro-cognitive enhancing property.
We are leading Exporter and Manufacturer of Donepezil HCI.

Uses
Donepezil is used in the treatment of alzheimer's disease (brain disorder that affects memory and intellectual ability) dementia in parkinson's disease
How it works
Memory loss in Alzheimer's disease is due to disturbance of message signals in the brain. The Donepezil works by increasing the levels of acetylcholine, a chemical messenger involved in the transmission of nerve signals.
Common side effects
Nausea, Loss of appetite, Fatigue, Insomnia (difficulty in sleeping), Vomiting, Diarrhoea, Muscle cramp
Tag:

Donepezil HCI Tablets exporter, Donepezil HCI Tablets manufacturer
Donepezil HCI Tablets supplier, Donepezil HCI Tablets manufacturer in India,
Donepezil HCI Tablets exporter in India.
Additional Information:
Minimum Order Quantity: 1000 Box