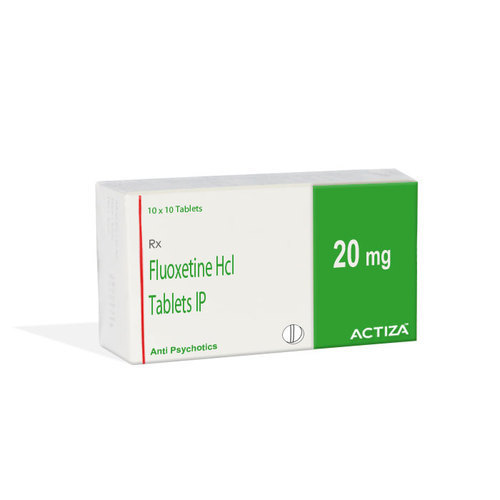 Fluoxetine HCL Tablets IP
Product Description
Fluoxetine HCL Tablets IP have been formulated to be used for treatment of depression, panic disorder, premenstrual dysphoric disorder, and obsessive compulsive disorder. They are antidepressants that belong to drug class of serotonin reuptake inhibitor. These tablets are known to have bioavailability of 60 to 80% with protein binding ability of 94 to 95%. They get metabolized in liver with help of CYP2D6 enzyme with elimination half life of 1 to 3 days. Fluoxetine HCL Tablets IP are known to work by delaying reuptake of serotonin allowing it to remain for long after release.
We are leading exporter and manufacturer of Fluoxetine HcI.

Uses
Fluoxetine is used in the treatment of post traumatic stress disorder, depression, anxiety disorder, obsessive-compulsive disorder and phobia
How it works
Fluoxetine increases the levels of serotonin in the brain. Serotonin is a chemical messenger in the brain that helps in regulating the mood.
Common side effects
Nausea, Diarrhoea, Insomnia (difficulty in sleeping), Headache, Fatigue
Tag:

Fluoxetine HcI Capsules exporter, Fluoxetine HcI Capsules manufacturer
Fluoxetine HcI Capsules supplier, Fluoxetine HcI Capsules manufacturer in India,
Fluoxetine HcI Capsules exporter in India.
Additional Information:
Minimum Order Quantity: 1000 Box