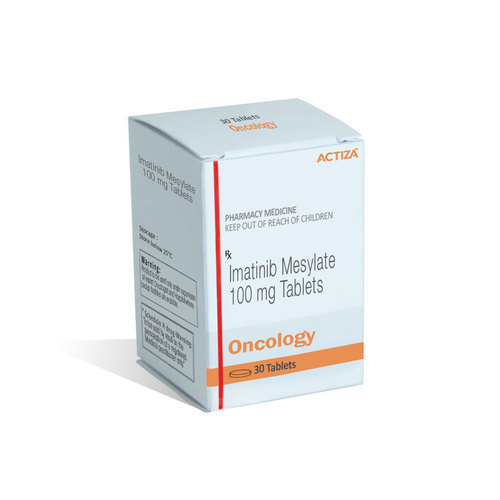 Imatinib Mesylate Tablets
Product Description
Imatinib Mesylate Tablets are prescribed for treatment of cancer specifically CML, CLL, and certain types of gastrointestinal stromal tumors. They are anti-neoplastic agents that are considered as tyrosine kinase inhibitors that prevent phosphorylation and activation of growth receptors. Active compound of these tablets has molecular formula C30H35N7O4 with molar mass of 589.715 g/mol. They are known to show bioavailability of 98% with 95% of protein binding ability. Active chemical in these tablets go and bind to active site of tyrosine kinase and decrease its activity. Upon absorption in body, Imatinib Mesylate Tablets get metabolized in liver with help of CYP3A4 and has elimination half life of about 40 hours.
Product Details:
| | |
| --- | --- |
| Dose/Strength | 100mg, 400mg |
| Packaging Size | 30 Tablets |
| Packaging Type | Bottle |
We are leading Exporter and Manufacturer of Imatinib Tablets.

Uses
Imatinib Mesylate is used in the treatment of blood cancer (chronic myeloid leukaemia)
How it works
Imatinib Mesylate In patients with cancer, a change in DNA (genetic material) triggers a signal which produces abnormal cancer cells. Imatinib Mesylate blocks this signal, and thus stops the production of these cancer cells.
Common side effects
Nausea, Rash, Vomiting, Musculoskeletal pain, Edema, Abdominal pain, Fatigue, Diarrhoea, Muscle cramp
tag
Imatinib Tablets supplier, Imatinib Tablets manufacturer in India,