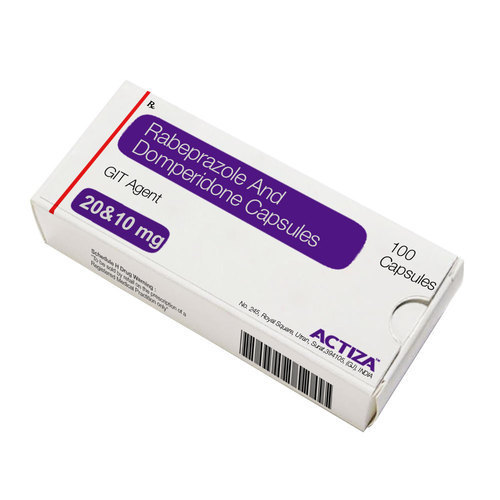 Rabeprazole And Domperidone Tablets
Product Description
Rabeprazole And Domperidone Tablets have been formulated for treatment of symptoms of gastroesophageal reflux disease, Zollinger-Ellison syndrome, peptic ulcers, and indigestion. They are known to work by binding to pump responsible for secretion of gastric acid present on surface of stomach's parietal cells. These tablets belong to drug class of proton pump inhibitors with ability to improve movement of stomach & intestines for better relieving activity. Rabeprazole And Domperidone Tablets get metabolized in liver with help of CYP3A4 and CYP3A5 enzymes showing elimination half life of about 7.5 hours. They are known to provide fast relief from acid-related indigestion.
We are leading exporter and manufacturer of Rabeprazole And Domperidone Tablets.
Uses

Rabeprazole is used in the treatment of acidity, heartburn, intestinal ulcers and stomach ulcers
How it works
Rabeprazole lowers the acid production in the stomach.
Common side effects
Nausea, Headache, Abdominal pain, Constipation, Diarrhoea, Flatulence
Rabeprazole And Domperidone Tablets exporter, manufacturer, supplier in India.