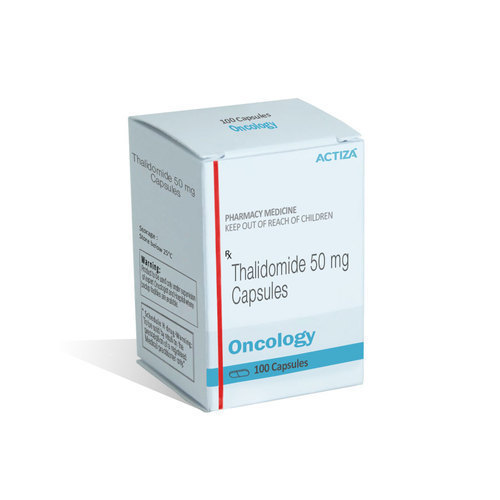 Thalidomide Capsule
Product Description
Thalidomide Capsule is an immunomodulatory medicine which is prescribed for treatment of multiple myeloma and acute erythema nodosum leprosum. Actual mode of action of this drug is unknown but is considered to inhibit cereblon, a ubiquitin ligase to kill cells. Active compound of this capsule has molecular formula C13H10N2O4 with molar mass of 258.23 g/mol. It is known to show bioavailability of about 90% with 55% of protein binding ability. This capsule gets metabolized in liver by CYP2C19 with elimination half life of around 5 to 7.5 hours which depends on dose. Thalidomide Capsule also has ability to treat certain cancers and cure anxiety, insomnia, & gastritis.
Product Details:
| | |
| --- | --- |
| Minimum Order Quantity | 1000 Box |
| Usage | Commercial, Clinical, Hospital |
We are leading exporter and manufacturer of Thalidomide Capsule.
Uses
Thalidomide is used in the treatment of multiple myeloma and lepra reaction.
How it works
Thalidomide modulates the activity of body's immune system and helps indirectly attacking the cancer cells. It also stops the growth of blood vessels in cancer.
Common side effects
Headache, Sleepiness, Nausea, Rash, Breathlessness, Weakness, Dizziness, Edema, Loss of appetite, Decreased white blood cell count, Decreased calcium level in blood, Weight gain, Fatigue, Muscle weakness, Fever, Anxiety, Blood clots , Dry skin, Weight loss, Confusion, Decreased white blood cell count (neutrophils), Neuropathy, Constipation, Tremor
Thalidomide Capsule exporter, Thalidomide Capsule manufacturer
Thalidomide Capsule supplier, Thalidomide Capsule manufacturer in India,
Thalidomide Capsule exporter in India.