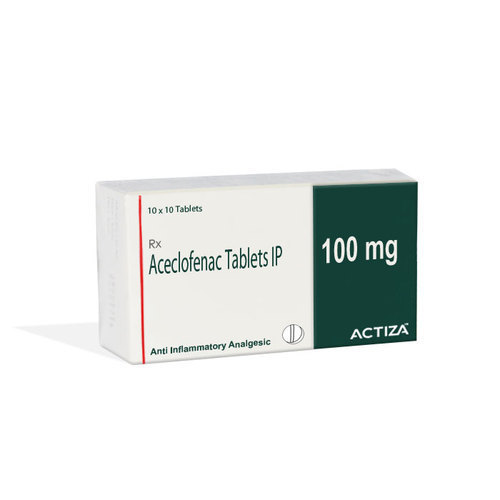 Aceclofenac Tablets
Product Description
Aceclofenac Tablets are diclofenac analog that is prescribed for treatment of pain & inflammation caused due to rheumatoid arthritis, osteoarthritis, & ankylosing spondylitis. They work by inhibiting activity of prostaglandins by acting directly on enzyme responsible for their formation. Aceclofenac has chemical formula C16H13Cl2NO4 with molecular weight of 353.02161 g/mol. These tablets are known to exert their curative effects quickly with targeted mode of action. Aceclofenac Tablets belong to family of non-steroidal anti-inflammatory drugs with ability to reduce swelling and show effectiveness against both isoforms of COX enzyme. They show excellent permeability to penetrate synovial joints and support painless movement.
Product Details:

| | |
| --- | --- |
| Minimum Order Quantity | 100 Box |
| Product Type | Finished Product |
| Usage | Commercial, Clinical, Hospital, Personal |

We are leading exporter and manufacturer of Aceclofenac Tablets.

Uses

Aceclofenac is used in the treatment of osteoarthritis, muscular pain, gout and rheumatoid arthritis

How it works

Aceclofenac blocks the release of certain chemical messengers that are responsible for inflammation, pain, and fever.

Common side effects

Nausea, Peptic ulcer, Abdominal pain, Allergic skin rash, Constipation, Diarrhoea, Dizziness, Flatulence, Increased blood pressure, Indigestion, Vomiting

Aceclofenac Tablets exporter, Aceclofenac Tablets manufacturer

Aceclofenac Tablets supplier, Aceclofenac Tablets manufacturer in India,

Aceclofenac Tablets exporter in India.