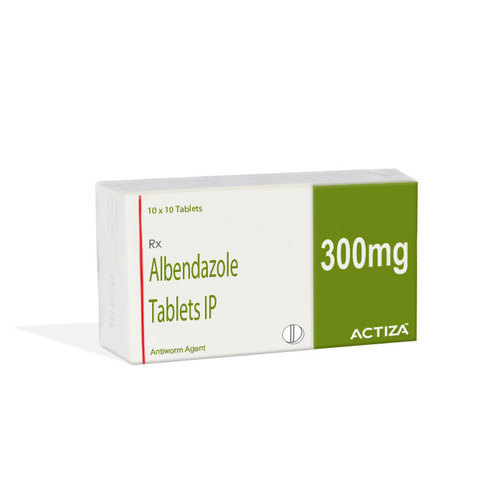 Albendazole Tablets IP 300 mg
Product Description
Albendazole Tablets are antiparasitic medicines that find high effectiveness for giardiasis, filariasis, hydatid disease, and ascariasis. They are known to work by causing degenerative alterations in intestinal worm cells and inhibiting polymerization in microtubules. This activity of albendazole is achieved by binding to colchicine-sensitive site of beta-tubulin. Main chemical of these tablets has molecular formula C12H15N3O2S with molar mass of 265.333 g/mol. Albendazole Tablets show good protein binding ability of around 70% with metabolism in liver having elimination half life of 8-12 hours. Upon ingestion, only 1 to 5% of medicine is absorbed in body depending upon gastric pH.

Product Details:

Minimum Order Quantity : 100 Box
Application : Anti-Infective
Form Of Medicines : Tablets
Grade standard : Medicine Grade
Type of Medicines : Allopathic

Uses : Albendazole is used in the treatment of parasitic worm infections
How it works : Albendazole belongs to class of medications called anti-helminthic. Albendazole works by keeping the worm from absorbing sugar (glucose), so that the worm loses energy and dies.
Common side effects : Headache, Nausea, Hair loss, Vomiting, Dizziness, Abnormal liver function tests, Fever, Abdominal pain, Vertigo