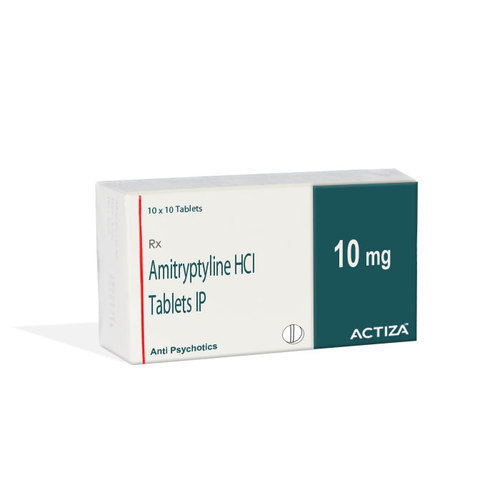 Amitryptyline HCI Tablets IP
Product Description
Amitryptyline HCI Tablets IP have been indicated for major depressive disorder, neuropathic pain, and attention deficit hyperactivity disorder. Active compound present in this medicine has molecular formula C20H23N with molar mass of 277.403 g/mol. With bioavailability of 30 to 60%, they get metabolized in liver by CYP2C9 having excellent protein binding ability of about 96%. Amitryptyline HCI Tablets IP are tricyclic antidepressants that show their strong activity on serotonin transporter. After ingestion, they rapidly get absorbed from GI tract and metabolized in liver with help of CYP2D6 and CYP2C19 enzymes.
We are leading exporter and manufacturer of Amitryptyline HCI.

Uses
Amitryptyline 10mg tablet is used in the treatment of depression and neuropathic pain (pain due to damage of nerves)
How it works
Amitryptyline 10mg tablet increases the levels of chemical messengers in the brain that help in regulating the mood and treat depression.
Common side effects
Sleepiness, Blurred vision, Increased heart rate, Dry mouth, Constipation, Weight gain, Difficulty in urination, Orthostatic hypotension (sudden lowering of blood pressure on standing)
Tag:

Amitryptyline HCI Tablets exporter, Amitryptyline HCI Tablets manufacturer
Amitryptyline HCI Tablets supplier, Amitryptyline HCI Tablets manufacturer in India,
Amitryptyline HCI Tablets exporter in India.
Additional Information:
Minimum Order Quantity: 1000 Box