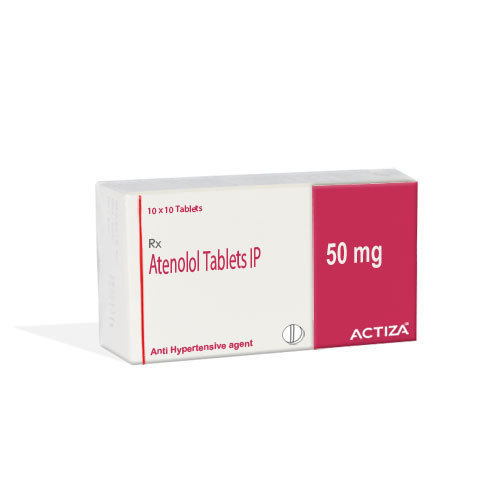 Atenolol Tablets
Product Description
Atenolol Tablets have been specifically formulated to be used for treatment of angina & high BP with ability to prevent migraine. With bioavailability of about 40 to 50%, atenolol has chemical formula C14H22N2O3 with molar mass of 266.336 g/mol. They have very low protein binding ability of about 6 to 16% and are metabolized in liver with elimination half life of 6-7 hours. These tablets are also indicated for symptoms of alcohol withdrawal, acute myocardial infarction, ventricular tachycardia, and long QT syndrome. Atenolol Tablets work by reducing workload of heart and slowing its activity.

Product Details:

Minimum Order Quantity 100 Box
Dose/Strength (ex. 1 mg or 1ml) 25mg, 50mg,100mg
Packaging Size 100 Tablets
Packaging Type Strips, box
Usage Clinical, Hospital, Personal

Uses : Atenolol is used in the treatment of angina (chest pain), arrhythmias (abnormal heart beat), heart attack and increased blood pressure

How it works : Atenolol blocks the action of certain chemical messengers on the heart and blood vessels. This can lower the blood pressure, abnormally fast heartbeat and reduces strain on the heart following a heart attack.
Common side effects : Nausea, Headache, Fatigue, Dizziness, Slow heart rate, Breathlessness, Diarrhoea, Palpitations, Abdominal pain,