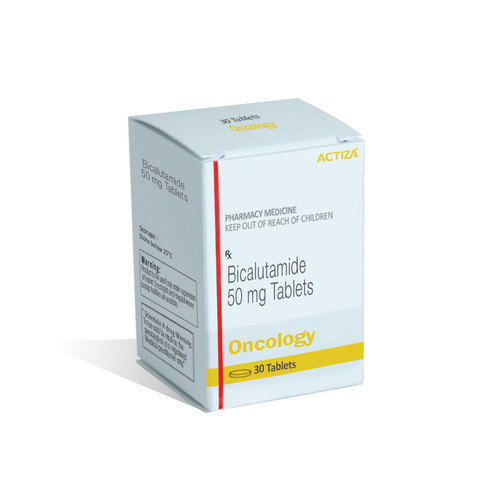 Bicalutamide Tablets
Product Description
Bicalutamide Tablets have been primarily used for treatment of prostate cancer and are known to have protein binding ability of about 96.1% with high bioavailability. They are anti androgens that are often used in combination with gonadotropin releasing hormone analogue for treating advanced prostate cancer. These tablets are also utilized to prevent excessive hair growth in women as feminizing hormone therapy. They get metabolized in liver by CYP3A4 & UGT1A9. With elimination half life of around 5 to 6 days, Bicalutamide Tablets are excreted in feces and urine after metabolism.
Product Details:
| | |
| --- | --- |
| Minimum Order Quantity | 50 Box |
| Dose/Strength | 50 mg |
| Packaging Size | 30 Tablets |
| Packaging Type | Bottle |
We are leading Exporter and Manufacturer of Bicalutamide Tablets.

Uses
Bicalutamide is used in the treatment of prostate cancer
How it works
Bicalutamide blocks the effects of the natural male hormones on the growth of prostate cells. Bicalutamide also blocks the undesired effects of androgens in females such as excessive hair growth and acne.
Common side effects
Rash, Dizziness, Decreased libido, Sleepiness, Weakness, Nausea, Abdominal pain, Dyspepsia
Bicalutamide Tablets exporter, Bicalutamide Tablets manufacturer
Bicalutamide Tablets supplier, Bicalutamide Tablets manufacturer in India,
Bicalutamide Tablets exporter in India.