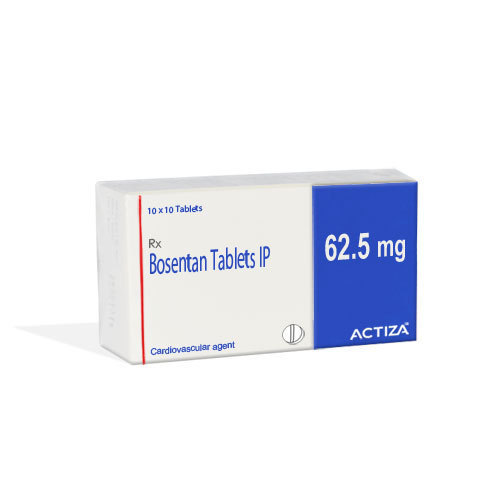 Bosentan Tablets
Product Description
Bosentan Tablets are prescribed for treatment of pulmonary artery hypertension and for reducing number of digital ulcers. They are competitive antagonist of endothelin-1 receptors which works by decreasing pulmonary vascular resistance. These tablets show bioavailability of about 50% and get metabolized with help of CYP3A4, CYP2C9, and CYP2C19 enzymes. Bosentan has chemical formula C27H29N5O6S with molecular weight of 551.614 g/mol and elimination half-life of about 5 hours. Bosentan Tablets are admired for having protein binding ability of more than 98% having high affinity for ET-A as compared to that for ET-B.
Product Details:

| | |
| --- | --- |
| Minimum Order Quantity | 50 Box |
| Dose/Strength (ex. 1 mg or 1ml) | 62.5mg, 125mg |
| Packaging Size | 100 Tablets |
| Packaging Type | Strips, Box |
| Usage | Clinical, Hospital, Personal |




We are leading Exporter and Manufacturer of Bosentan Tablets.

Uses

Bosentan is used in the treatment of pulmonary hypertension (high pressure in the blood vessels of lungs)

How it works

Bosentan relaxes the blood vessels of the lungs, which in turn lowers the blood pressure.

Common side effects

Headache, Increased liver enzymes, Edema, Allergic reaction, Gastro-esophageal reflux disease, Diarrhoea, Anemia, Decreased blood pressure, Flushing, Respiratory tract infection

Bosentan Tablets exporter, Bosentan Tablets manufacturer

Bosentan Tablets supplier, Bosentan Tablets manufacturer in India,

Bosentan Tablets exporter in India.