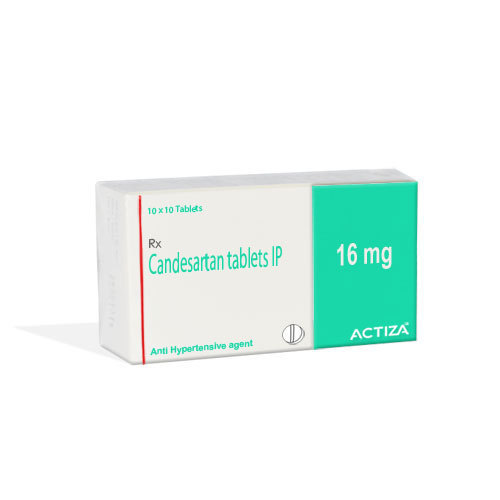 Candesartan Tablets
Product Description
Candesartan Tablets are prescribed for treatment of hypertension & congestive heart failure. Active chemical of these tablets has molecular formula C24H20N6O3 with molar mass of 440.45 g/mol and elimination half life of about 9 hours. These tablets get metabolized in liver by enzyme CYP2C9 & on intestinal walls by esterases and excreted in feces and from kidney. They are angiotensin II receptor antagonists that are also indicated for prevention of atrial fibrillation. Candesartan Tablets offered by us are known to have targeted mode of action with high effectiveness.

Product Details:

Minimum Order Quantity : 100 Box
Dose/Strength (ex. 1 mg or 1ml) : 16 mg
Packaging Size : 100 tablets
Packaging Type : Box, Strips
Usage : Clinical, Hospital, Personal


Uses : Candesartan is used in the treatment of increased blood pressure, heart failure, heart attack and diabetic kidney disease
How it works : Candesartan relax the blood vessels which lower the blood pressure and also reduces the workload of the heart. As a result, the heart works more efficiently.
Common side effects : Fatigue, Orthostatic hypotension (sudden lowering of blood pressure on standing), Weakness, Dizziness, Anemia, Renal impairment, Vertigo, Increased potassium level in blood.