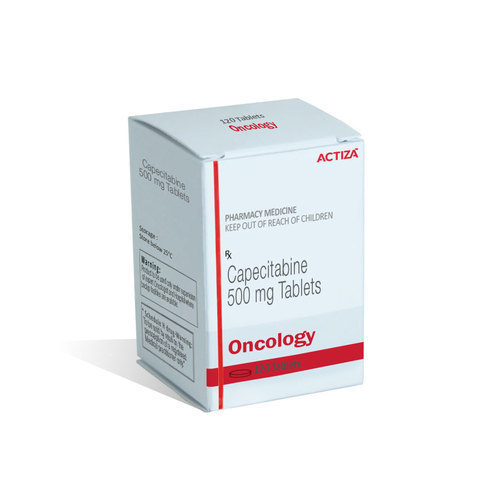 Capecitabine Tablet
Product Description
Capecitabine Tablet is a chemotherapy medicine which is indicated to be used for breast, colorectal, & gastric cancers. Upon absorption in body, it gets metabolized to 5-FU which inhibits thymidylate synthase to exert its curative effects. This tablet shows protein binding ability of around 60% with elimination half life of about 38 to 45 minutes. Active compound used in formulation of this tablet has chemical formula C15H22FN3O6 and molar mass of 359.35 g/mol. Maximum excretion of Capecitabine Tablet is through kidney and is often used in combination with other drugs including docetaxel.
Product Details:
| | |
| --- | --- |
| Minimum Order Quantity | 1000 Box |
| Dose/Strength | 500mg |
We are leading exporter and manufacturer of Capecitabine Tablet.
Uses
Capecitabine is used in the treatment of ovarian cancer, head and neck cancer, cervical cancer, testicular cancer., breast cancer, non-hodgkin lymphoma (nhl), blood cancer, lung cancer, bone cancer and urinary bladder cancer.

How it works
Capecitabine interferes with the growth of DNA and RNA of the cancer cells by substituting their building blocks. It prevents the cancer cells from growing and multiplying.
Common side effects
Nausea, Vomiting, Weakness, Abdominal pain, Loss of appetite, Fatigue, Diarrhoea, Hand-foot syndrome, Stomatitis (Inflammation of the mouth)
Capecitabine Tablet exporter, Capecitabine Tablet manufacturer
Capecitabine Tablet supplier, Capecitabine Tablet manufacturer in India,
Capecitabine Tablet exporter in India.