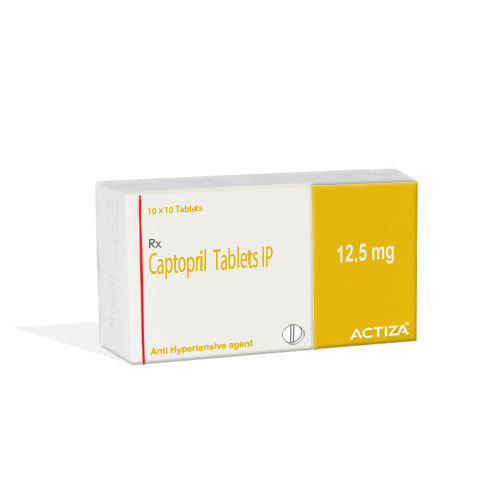 Captopril Tablets
Product Description
Captopril Tablets are formulated to be used for treatment of congestive heart failure, hypertension, and to prevent kidney functions in diabetic nephropathy. They are inhibitors of angiotensin-converting enzyme having ability to be absorbed up to 70% after ingestion. Captopril present in these tablets has chemical formula C9H15NO3S with molar mass of 217.29 g/mol. They get metabolized in liver and excreted via kidney with elimination half life of about 1.9 hours. Captopril Tablets are also known to show mood elevating properties with vasodilating activity. With ability to inhibit Metallo beta-lactamases, they have also been used for cancer treatment.
Product Details:

| | |
| --- | --- |
| Minimum Order Quantity | 100 Box |
| Dose/Strength (ex. 1 mg or 1ml) | 12.5 mg, 25 mg |
| Packaging Size | 100 Tablets |
| Packaging Type | Box, Strips |
| Usage | Clinical, Hospital, Personal |




We are leading Exporter and Manufacturer of Captopril Tablets.

Uses


Captopril is used in the treatment of increased blood pressure , heart failure, heart attack and diabetic kidney disease

How it works

Captopril relax the blood vessels which lower the blood pressure and also reduce the workload of the heart. As a result, the heart works more efficiently.

Common side effects

Breathlessness, Headache, Fainting, Dizziness, Blurred vision, Increased heart rate, Orthostatic hypotension (sudden lowering of blood pressure on standing), Weakness, Allergic reaction, Nausea, Abdominal pain, Irregular heart rate.

Captopril Tablets exporter, Captopril Tablets manufacturer

Captopril Tablets supplier, Captopril Tablets manufacturer in India,

Captopril Tablets exporter in India.