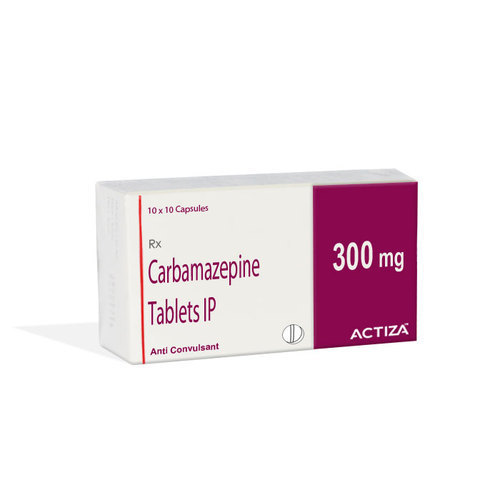 Carbamazepine Tablets IP
Product Description
Carbamazepine Tablets IP are most commonly prescribed for treatment of neuropathic pain and epilepsy. Along with other medications, they are also used in schizophrenia and also as second-line agent for bipolar disorder. Carbamazepine is active chemical of these tablets having molecular formula C15H12N2O with molar mass of 236.269 g/mol. They show complete 100% of bioavailability with protein binding ability of 70 to 80%. Carbamazepine Tablets IP get metabolized in liver by CYP3A4 enzyme and has elimination half life of 36 hours with single dose. They are sodium channel blockers and work by binding to voltage-gated sodium channels.

Product Details:

Minimum Order Quantity : 1000 Box
Packaging Type : Strips
Type Of Medicines : Allopathic

Uses : Carbamazepine is used in the treatment of epilepsy, trigeminal neuralgia and mania (abnormally elevated mood)
How it works : Carbamazepine controls seizures or fits by suppressing the abnormal and excessive activity of the nerve cells in the brain.
Common side effects : Skin rash, Nausea, Vomiting, Sleepiness, Dizziness, Fatigue, Coordination impaired, Decreased white blood cell count