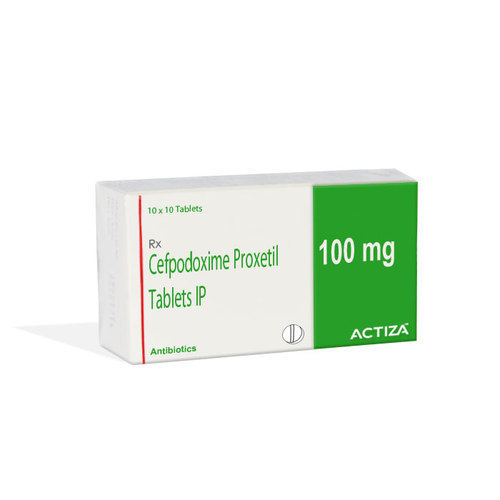 Cefpodoxime Tablets
Product Description
Cefpodoxime Proxetil is an orally administered, extended spectrum, semi-synthetic antibiotic of the cephalosporin class. It is given as a Cefpodoxime proxetil. Cefpodoxime proxetil is a prodrug which is absorbed and de-esterified by the intestinal mucosa to Cefpodoxime It is active against most Gram positive and Gram negative bacteria. It is commonly used to treat acute otitis media, pharyngitis, and sinusitis.
Indications :- Acute otitis media- Pharyngitis and/or tonsillitis- Community-acquired pneumonia- Acute bacterial exacerbation of chronic bronchitis- Acute, uncomplicated urethral and cervical gonorrhea- Acute, uncomplicated ano-rectal infections in women- Uncomplicated skin and skin structure infections - Acute maxillary sinusitis- Uncomplicated urinary tract infections (cystitis).We offer to our clients superior quality Cefpodoxime Proxetil Tablets. Due to high quality and durability these are famous among its user. These products are available in market at most economical rates. Our products are highly appreciated by our clients in the market.
Buy Cefpodoxime tablet, Buy Cefpodoxime tablet online,
Buy Cefpodoxime tablet India, Cefpodoxime tablet exporter,
Cefpodoxime tablet supplier, Cefpodoxime tablet supplier in india,
Cefpodoxime tablet exporter in india.
Additional Information:
Minimum Order Quantity: 100 Box