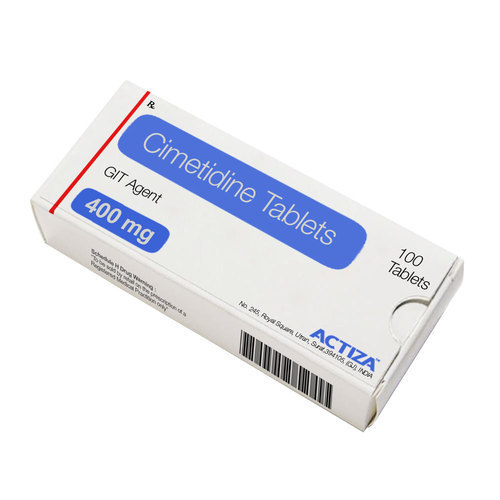 Cimetidine Tablets
Product Description
Cimetidine Tablets are histamine H2 receptor antagonists that are prescribed for treatment of excessive gastric acid production in stomach. They are also used for providing relief from peptic ulcers and heartburn. These are antacids that are known to work by binding to H2 receptors. Cimetidine present in this medicine has chemical formula C10H16N6S with molecular weight of 252.34 g/mol. Upon ingestion, they show bioavailability of around 60 to 70% with protein binding ability of 13 to 25%. Cimetidine Tablets get metabolized in liver producing cimetidine sulfoxide, hydroxycimetidine, and guanyl urea cimetidine as metabolites.

Uses : Cimetidine is used in the treatment of acidity, heartburn, intestinal ulcers and stomach ulcers
How it works : Cimetidine lowers the acid production in the stomach.
Common side effects : Fatigue, Drowsiness, Headache, Dizziness, Nausea, Constipation, Diarrhoea, Muscle pain