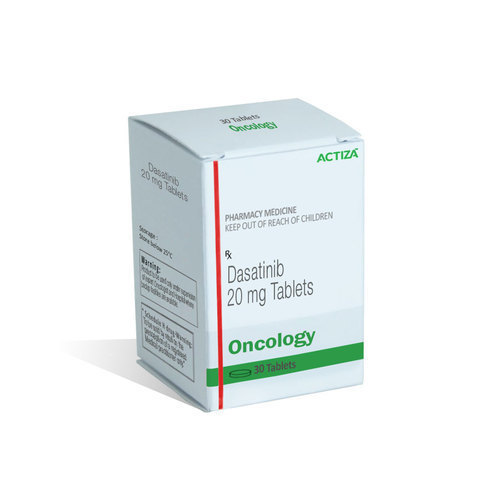 Dasatinib Tablets
Product Description
Dasatinib Tablets are chemotherapy formulations that are prescribed for treatment of chronic myelogenous leukemia and acute lymphoblastic leukemia. They are known to work by inhibiting activities of Philadelphia chromosome and certain tyrosine kinases. Active chemical dasatinib present in these tablets has molecular formula C22H26ClN7O2S with molar mass of 488.01 g/mol. Metabolized in liver, Dasatinib Tablets show protein binding ability of 96% with elimination half life 1.3 to 5 hours. Administered orally, they are greatly admired for having targeted mode of action with excretion mainly in feces.
Product Details:
| | |
| --- | --- |
| Minimum Order Quantity | 50 Bottle |
| Dose/Strength (ex. 1 mg or 1 ml) | 50 mg |
| Packaging Size | 60 Tablets |
| Packaging Type | Bottle |
| Usage | Clinical, Hospital, Personal |
We are leading Exporter and Manufacturer of Dasatinib Tablets.
Uses
Sprycel 50 mg tablet is used in the treatment of blood cancer (chronic myeloid leukaemia)
How it works
Sprycel 50 mg tablet In patients with cancer, a change in DNA (genetic material) triggers a signal which produces abnormal cancer cells. Sprycel 50 mg tablet blocks this signal, and thus stops the production of these cancer cells.
Common side effects
Breathing difficulty, Rash, Reduced blood platelets, Joint pain, Difficulty in speaking, Headache, Dizziness, Decreased level of thyroid hormones, Back pain, Fluid retention.
Dasatinib Tablets supplier, Dasatinib Tablets manufacturer in India,