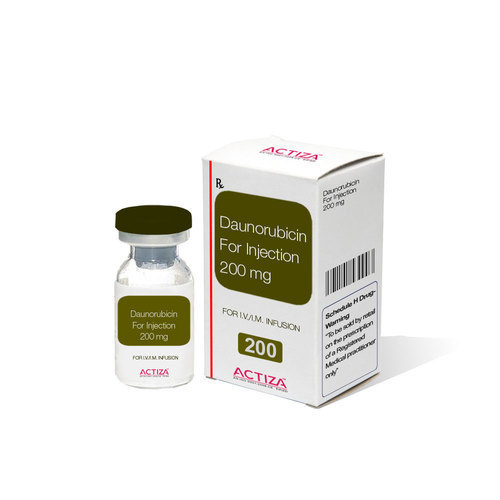 Daunorubicin Drug
Product Description
Daunorubicin Injection is administered via intravenous route by trained physician or nurse. It is indicated to be used for treatment of blood cancer including AML, ALL, and CML. This chemical is known to work by interacting with DNA by intercalation and inhibiting macromolecular biosynthesis. It gets metabolized in liver with elimination half-life of about 26.7 hours and excretion via biliary system & in urine. This injection is also known to work by inhibiting topoisomerase II progression resulting in prevention of transcription. Daunorubicin Injection is known to belong to anthracycline class of medicines and is suitable for treatment of Kaposi's sarcoma.
Product Details:
| | |
| --- | --- |
| Minimum Order Quantity | 1000 Unit |
| Usage | Commercial, Clinical |
We are leading exporter and manufacturer of Daunorubicin Injection.
Uses
Daunorubicin is used in the treatment of blood cancer
How it works
Daunorubicin works by damaging the genetic material (DNA) of the cancer cells and stops their growth and multiplication.
Common side effects
Nausea, Vomiting, Reduced blood platelets, Ulcer, Infection, Abdominal pain, Loss of appetite, Decreased white blood cell count, Hair loss, Fever, Decreased blood cells (red cells, white cells, and platelets), Fatigue, Anemia, Chills, Diarrhoea, Mucosal inflammation, Febrile neutropenia, Stomatitis (Inflammation of the mouth), Breathing difficulty
Daunorubicin Injection exporter, Daunorubicin Injection manufacturer
Daunorubicin Injection supplier, Daunorubicin Injection manufacturer in India,
Daunorubicin Injection exporter in India.