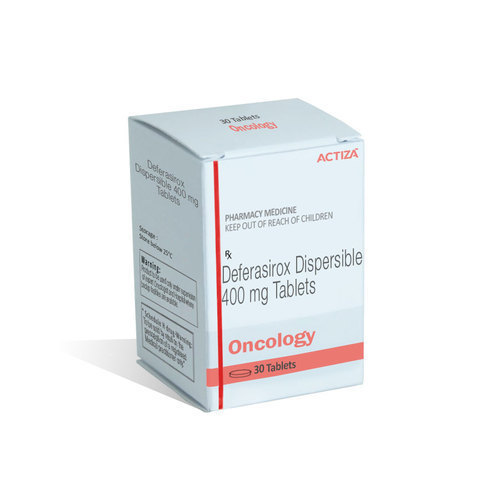 Deferasirox Tablet
Product Description
Deferasirox Tablet is prescribed for people who are receiving long term blood transfusions in order to reduce chronic iron overload. It is known to have 70% bioavailability with protein binding capacity of 99%. This tablet gets metabolized by hepatic glucuronidation and has elimination half life of about 8 to 16 hours. Active chemical present in this medicine has molecular formula C21H15N3O4 with molar mass of 373.362 g/mol. Deferasirox Tablet has high affinity for iron and is known to work by binding to iron in blood stream and eliminating them through stool.
Product Details:
| | |
| --- | --- |
| Minimum Order Quantity | 50 Box |
| Usage | Commercial, Clinical, Hospital, Personal |
We are leading Exporter and Manufacturer of Deferasirox Tablet.

Uses
Deferasirox is used in the treatment of iron overload and transfusion dependent thalassemia
How it works
Deferasirox belongs to a class of drugs called iron chelators. Deferasirox works by binding to excess iron in the blood and removing it from the body through stool.
Common side effects
Nausea, Headache, Vomiting, Rash, Dyspepsia, Abdominal pain, Constipation, Itching, Increased liver enzymes, Abdominal distension, Diarrhoea
Deferasirox Tablets supplier, Deferasirox Tablets manufacturer in India,