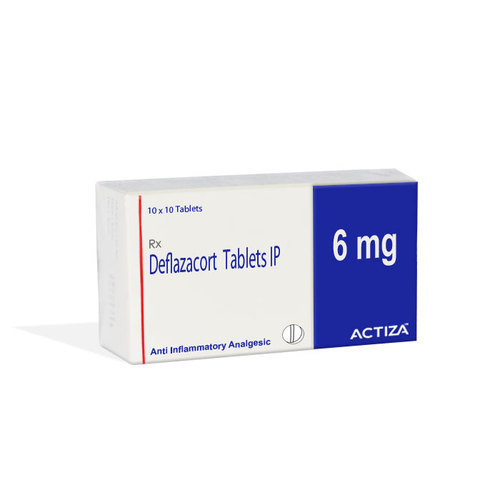 Deflazacort Tablets
Product Description
Deflazacort Tablets are immunosuppressant & anti-inflammatory medicines that are prescribed for treatment of muscular dystrophy, Crohn's disease, asthma, and multiple myeloma. Active compound of this medicine has chemical formula C25H31NO6 with molar mass of 441.517 g/mol. These tablets belong to glucocorticoid drug class and get converted to active form in liver by plasma esterases after absorption. They show protein binding ability of about 40% with excretion through kidney after elimination half life of 1.1 to 1.9 hours. Deflazacort Tablets work by binding to cytosolic glucocorticoid receptor which is later activated by ligand binding.
Uses : Deflazacort is used in the treatment of severe allergic reaction, allergic disorders, asthma, cancer, rheumatic disorder, skin disorders and eye disorders

How it works : Deflazacort is a corticosteroid drug. It increases the level of glucocorticoid in the body and works by decreasing the formation of substances that cause inflammation and suppresses immunity to stops self damage to body by immune system (auto-immune reactions occurring in organ transplants or cancer).
Common side effects : Electrolyte imbalance, Headache, Redistribution/accumulation of body fat, Bone degradation, Increased risk of infection, Insomnia, Increased hair growth, Muscle disorders.