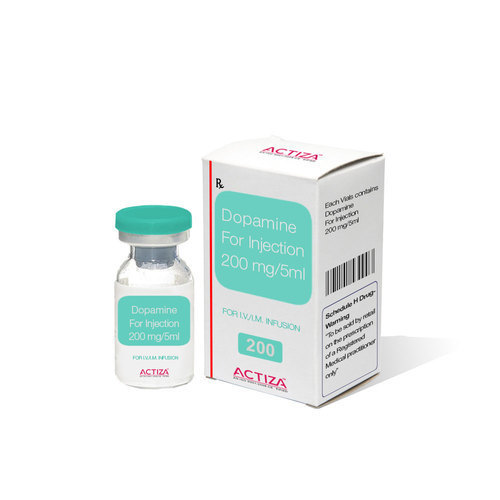 Dopamine Injection
Product Code : Dopamine Injection
Price And Quantity
Unit of Measure

:

,
Product Description
Dopamine Injection is a stimulating medication which is administered intravenously for treating severe low blood pressure, cardiac arrest, and slow heart rate. Dopamine is known to have molecular formula C8H11NO2 with molar mass of 153.18 g/mol. This injection also shows importance in various other health conditions including schizophrenia, Parkinson's disease, and bipolar disorder. It is known to work by increasing excretion of sodium by kidney resulting in increase of urine output, BP, & heart rate. For having very low half-life of around a minute, Dopamine Injection is most commonly given in drip form in accordance with individual's health condition.

Uses : Dopamine 200mg injection is used in the treatment of heart failure and decreased blood pressure
How it works : Dopamine 200mg injection makes the heart pump blood with more strength and force, therefore, increasing the blood pressure.
Common side effects : Breathlessness, Headache, Palpitations, Increased heart rate, Arrhythmia, Vomiting, Nausea, Chest pain, Decreased blood pressure