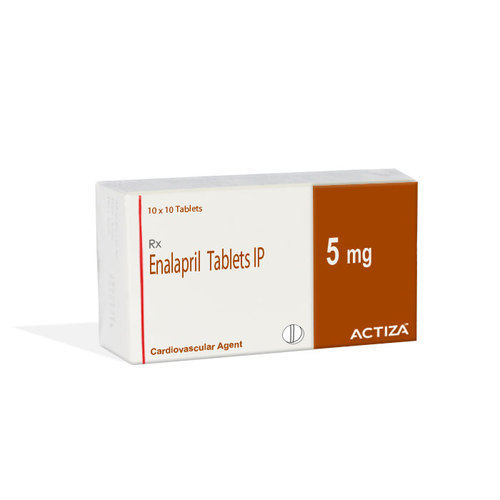 Enalapril Tablet
Product Description
Enalapril Tablet has been prescribed for treatment of high blood pressure, heart failure, and diabetic kidney disease. It is known to work by inhibiting activity of ACE which is responsible for constriction of blood vessels resulting in high BP. Enalapril has chemical formula C20H28N2O5 with molar mass of 376.447 g/mol showing bioavailability of around 60%. This tablet has elimination half life of 11 hours and gets excreted from kidney. Enalapril Tablet is also admired for having ability to protect functions of kidney in hypertension and heart failure. Onset of action of this drug is seen 1 hour after consumption.
Product Details:

| | |
| --- | --- |
| Minimum Order Quantity | 1000 Box |
| Usage | Clinical, Hospital, Personal |

We are leading Exporter and Manufacturer of Enalapril Tablet.

Uses

Enalapril is used in the treatment of increased blood pressure , heart failure, heart attack and diabetic kidney disease.

How it works

Enalapril relaxes the blood vessels which lowers the blood pressure and also reduces the workload of the heart. As a result, the heart works more efficiently.

Common side effects

Decreased blood pressure, Cough, Increased potassium level in blood, Fatigue, Weakness, Dizziness, Renal impairment

Enalapril Tablet exporter, Enalapril Tablet manufacturer

Enalapril Tablet supplier, Enalapril Tablet manufacturer in India,

Enalapril Tablet exporter in India.