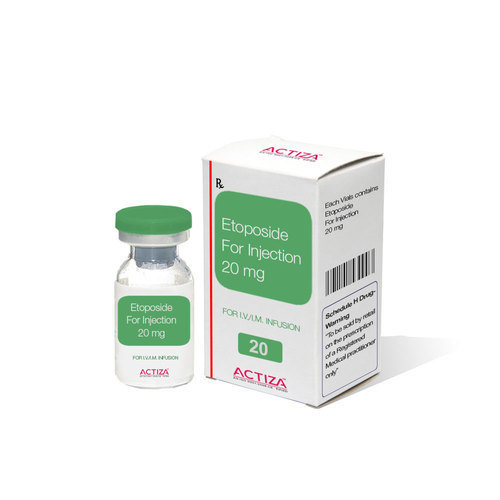 Etoposide Injection
Product Description
Etoposide Injection
Product Details:
| | |
| --- | --- |
| Minimum Order Quantity | 1000 Unit |
| Usage | Commercial, Clinical, Hospital |
We are leading exporter and manufacturer of Etoposide Injection.
Uses
Etoposide is used in the treatment of small cell lung cancer and testicular cancer.
How it works
Etoposide works by damaging the genetic material (DNA) of the cancer cells and stops their growth and multiplication.
Common side effects
Nausea, Vomiting, Weakness, Abdominal pain, Skin pigmentation, Decreased white blood cell count, Hair loss, Reduced blood platelets, Liver toxicity, Loss of appetite, Anemia, Decreased white blood cell count (neutrophils), Feeling of discomfort, Constipation
Etoposide Injection exporter, Etoposide Injection manufacturer
Etoposide Injection supplier, Etoposide Injection manufacturer in India,
Etoposide Injection exporter in India.