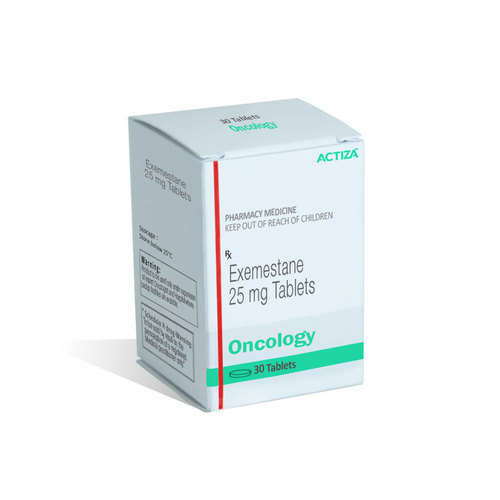 Exemestane Tablets
Product Description
Exemestane Tablets have been formulated to be prescribed for treatment of breast cancer. They belong to drug class of aromatase inhibitors and are used in addition to surgery or radiation therapy in postmenopausal women. These tablets have about 60% of bioavailability with excellent protein binding ability of 90%. They get metabolized in liver by CYP3A4 and also-keto reductase with elimination half-life of around 24 hours. Exemestane Tablets are known to require about 4 to 5 days for onset of action assuring targeted mode of action with no adverse side effects if consumed under prescription.
Used for the treatment of various conditions including Cancer of the Breast in women, Exemestane is a drug that helps improve condition of patients by decreasing estrogen levels in the body that is achieved by inhibiting aromatase. Side effects due to the drug vary on a case by case basis and may or may not occur. The side effects include tingling in hands, hair loss, numbness, muscle pain, fracture, etc. A doctor must be consulted immediately in any side effects are experienced by the patient. Prior to beginning dosage, patients must inform a medical practitioner about any over the counter products being consumed and other medications. Furthermore, patients must also make their doctors aware of any diseases, allergies and conditions they might have. Some medications and conditions can make patients much more vulnerable to side effects. Dosage prescribed by the doctor or instruction given on the package of the drug must be strictly followed. While on taking the drug, patient must not operate machinery and should ensure that blood and mineral density in the bone are tested on a regular basis. Furthermore, the drug must not be consumed by women who have not reached menopause as women on the drug cannot become pregnant. The drug may interact with Acetaminophen, Cholecalciferol, Ascorbic acid, Cetirizine, Aspirin, Cyanocobalamin.

Product Details:
| | |
| --- | --- |
| Minimum Order Quantity | 50 Bottle |
| Dose/Strength | 25 mg |
| Packaging Size | 30 Tablets |
| Packaging Type | Bottle |
We are leading Exporter and Manufacturer of Exemestane Tablets.
Uses
Exemestane is used in the treatment of breast cancer
How it works
Exemestane lowers the amount of estrogen (natural female hormone) produced in the body. This can lower or stop the growth of some breast cancer cells that need estrogen to grow.
Common side effects :

Joint pain, Headache, Insomnia, Musculoskeletal pain, Nausea, Increased sweating, Fatigue, Hot flushes.
Exemestane Tablets exporter, Exemestane Tablets manufacturer
Exemestane Tablets supplier, Exemestane Tablets manufacturer in India,
Exemestane Tablets exporter in India.