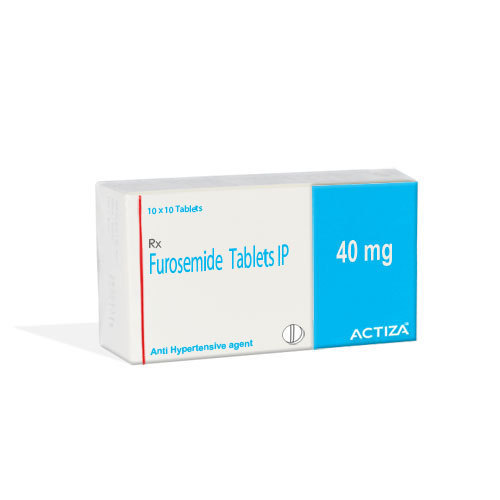 Furosemide Tablets
Product Description
Furosemide Tablets are prescribed for treatment of edema caused by congestive heart failure, hypertension, kidney impairment, liver cirrhosis, and nephrotic syndrome. Furosemide is an active compound present in this medicine having chemical formula C12H11ClN2O5S with molar mass of 330.745 g/mol. They work by binding to chloride transport channel in loop of Henle causing loss of Na, Cl, K loss in urine. These tablets are known to show bioavailability of 43 to 69% with elimination half life of about 1.3 hours and excretion via kidney. Metabolism of Furosemide Tablets is done by glucuronidation in both liver & kidney.
Product Details:

| | |
| --- | --- |
| Minimum Order Quantity | 100 Box |
| Dose | 40 gm |
| Packaging Size | 100 Tablets |
| Packaging Type | Strips, Box |
| Product Type | Finished Product |
| Usage | Commercial, Clinical, Hospital, Personal |




We are leading Exporter and Manufacturer of Furosemide Tablets.

Uses

Furosemide is used in the treatment of fluid retention (edema), heart failure, increased blood pressure and hypercalcemia (increased calcium levels in blood)

How it works

Furosemide lower the swelling by removing the levels of excess water and electrolytes in the body.

Common side effects

Dehydration, Decreased potassium level in blood, Decreased magnesium level in blood, Increased blood uric acid, Hearing loss

Furosemide Tablets exporter, Furosemide Tablets manufacturer

Furosemide Tablets supplier, Furosemide Tablets manufacturer in India,

Furosemide Tablets exporter in India.