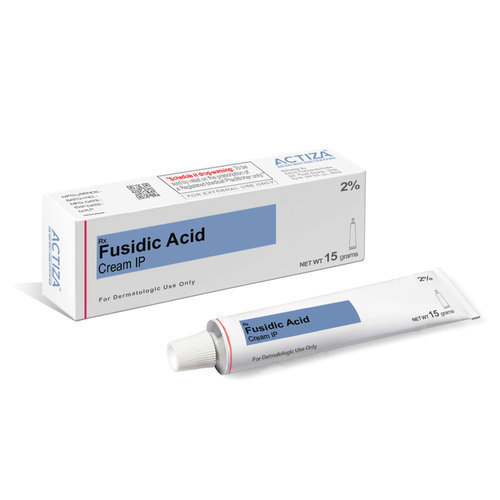 Fusidic Acid Cream
Product Description
Product Details:
| | |
| --- | --- |
| Minimum Order Quantity | 1000 Unit |
| Dose/Strength (ex. 1 mg or 1 ml) | 2% W/W |
| Packaging Size | 5gm, 10gm |
| Usage | Clinical, Hospital |
We are leading exporter and manufacturer of Fusidic Acid Cream.
Uses
Fusidic acid 2% w/w cream is used in the treatment of bacterial infections
How it works
Fusidic acid 2% w/w cream is an antibiotic. It stops bacterial growth by inhibiting synthesis of essential proteins, required by bacteria to carry out vital functions.
Common side effects
Nausea, Itchy rash, Abnormal blood cell count, Burning sensation, Drowsiness, Hormone imbalance, Allergic reaction, Slow growth in children and teenagers, Diarrhoea, Rash, Feeling of discomfort, Dizziness, Fatigue, Increased bowel movements, Headache, Heartburn, Hematological disorder, Irritation, Itching, Jaundice, Loss of appetite, Dryness, Soreness, Stomach pain, Stomach upset, Tingling sensation, Stinging sensation, Vomiting, Watery eyes, Weakness
tag
Fusidic Acid Cream exporter, manufacturer, supplier in India.