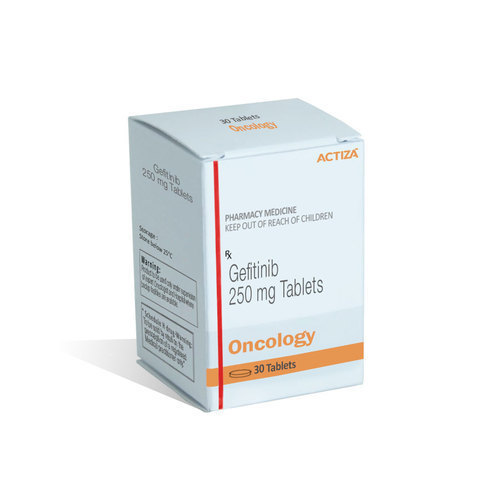 Gefitinib Tablet
Product Description
Gefitinib Tablet is epidermal growth factor receptor inhibitor which works by preventing proliferation of affected cells. It is anti-cancer medicine which works by binding to ATP binding site of EGFR TK enzyme resulting in its inhibition. This tablet is prescribed for treatment of various types of cancers including breast & lung. It shows about 59% of bioavailability by oral route with protein binding ability of about 90%. Gefitinib Tablet is known to be metabolized in liver with help of CYP3A4 enzyme and has elimination half life of 6 to 49 hours.
Product Details:
| | |
| --- | --- |
| Minimum Order Quantity | 50 Bottle |
| Dose/Strength | 250 mg |
| Packaging Size | 30 tablets |
| Packaging Type | Bottle |
We are leading exporter and supplier of Gefitinib Tablets.
Uses
Gefitinib is used in the treatment of small cell lung cancer.
How it works
Gefitinib In patients with cancer, a change in DNA (genetic material) triggers a signal which produces abnormal cancer cells. Gefitinib blocks this signal, and thus stops the production of these cancer cells.
Common side effects
Nausea, Rash, Vomiting, Weakness, Loss of appetite, Dry skin, Diarrhoea, Stomatitis
Gefitinib Tablets supplier, Gefitinib Tablets manufacturer in India,