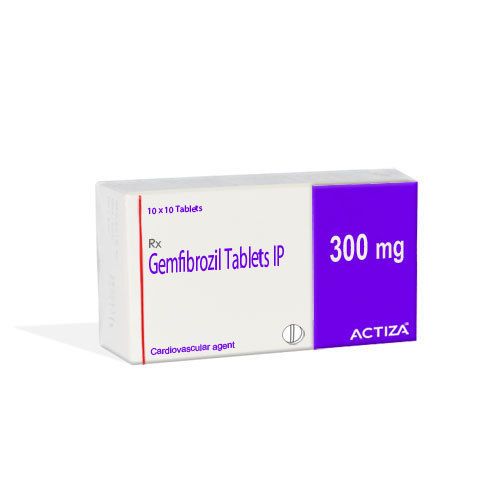 Gemfibrozil Tablet
Product Description
Gemfibrozil Tablet is indicated for lowering lipid level, triglycerides, VLDL, and LDL. It is known to have chemical formula C15H22O3 with molar mass of 250.333 g/mol. This medicine is highly appreciated for showing complete 100% of bioavailability with protein binding ability of 95%. It gets metabolized in liver with help of CYP3A4 enzyme. This tablet is most commonly prescribed for treatment of hyperlipidemia and hypertriglyceridemia. Gemfibrozil Tablet has elimination half life of about 1.5 hours with excretion about 94% by kidney and rest in feces. It is shown to work by inhibiting lipolysis and reducing hepatic fatty acid uptake.
We are leading exporter and manufacturer of Gemfibrozil Tablet.
Uses
Gemfibrozil is used in the treatment of increased cholesterol levels in blood and increased triglycerides levels in blood.
How it works
Gemfibrozil stimulates the formation of enzymes for triglyceride metabolism, which in turn lowers the levels of triglyceride and cholesterol in the body.
Common side effects
Increased liver enzymes, Vomiting, Nausea, Abdominal pain, Diarrhoea, Flatulence


Gemfibrozil Tablet exporter, Gemfibrozil Tablet manufacturer
Gemfibrozil Tablet supplier, Gemfibrozil Tablet manufacturer in India,
Gemfibrozil Tablet exporter in India.
Usage Industrial Commercial