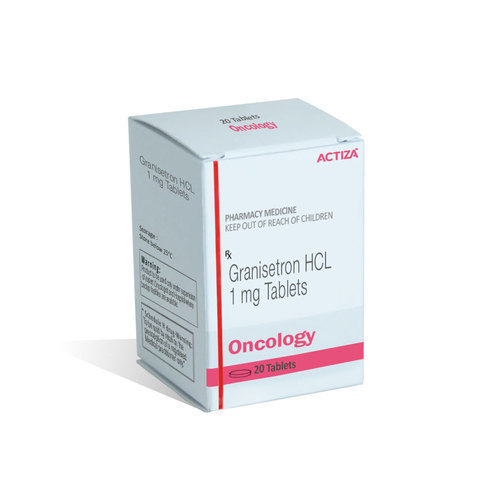 Granisetron HCL Tablets
Product Description
Granisetron HCL Tablets are serotonin receptor antagonists that are prescribed for treatment of chemotherapy or radiotherapy induced nausea & vomiting. They are known to have simple mode of action of reducing vagus nerve's activity which is responsible for activating vomiting center. These tablets show bioavailability & protein binding ability of 60% & 65% respectively. Granisetron hydrochloride has chemical formula C18H25ClN4O with molecular weight of 348.875 g/mol. Granisetron HCL Tablets get metabolized in liver with elimination half-life of 3 to 14 hours. They are highly appreciated for having targeted mode of action with no adverse side effects.
Product Details:
Minimum Order Quantity : 100 Bottle
Dose/Strength : 1 mg
Packaging Size : 20 Tablets
Packaging Type : Bottle
Uses
Granisetron is used in vomiting

How it works
Granisetron inhibits the action of serotonin, a chemical that can trigger nausea and vomiting.

Common side effects
Fatigue, Headache, Injection site allergic reaction, Flushing, Constipation