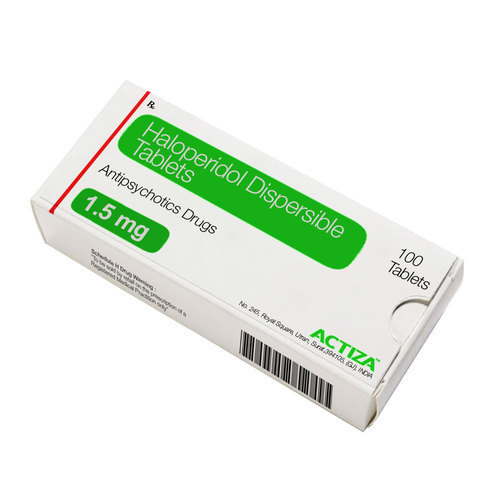 Haloperidol Dispersible Tablets
Product Description
Haloperidol Dispersible Tablets are typical antipsychotic medicines that show very high affinity for dopamine D2 receptors. They are known to have bioavailability of 60 to 70% with protein binding ability around 90%. This medicine is prescribed for treatment of mania in bipolar disorder and tics in Tourette syndrome. They show liver mediated metabolism with elimination half life of about 14 to 26 hours and excretion in feces. Haloperidol Dispersible Tablets are also suitable to be indicated for alcohol-induced confusion associated with cerebral sclerosis, and aggression. They are also known to have quick action within 60 minutes after absorption.
We are leading Exporter and Manufacturer of Haloperidol Dispersible.

Uses
Haloperidol is used in the treatment of schizophrenia (mental disorder in which patient interpret reality abnormally)
How it works
Haloperidol works by blocking the action of dopamine, a chemical messenger in the brain that affects the thoughts and moods.
Common side effects
Sleepiness, Orthostatic hypotension (sudden lowering of blood pressure on standing), Dry mouth, Abnormality of voluntary movements, Weight gain, Parkinsonism, Akathisia, Dystonia, Constipation
Tag:
Haloperidol Dispersible Tablets exporter, Haloperidol Dispersible Tablets manufacturer
Haloperidol Dispersible Tablets supplier, Haloperidol Dispersible Tablets manufacturer in India,
Haloperidol Dispersible Tablets exporter in India.