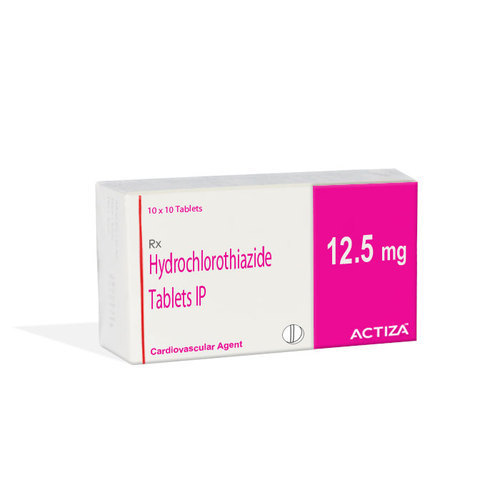 Hydrochlorothiazide Tablets
Product Description
Hydrochlorothiazide Tablets are indicated for relieving swelling due to fluid buildup and for treatment of high blood pressure. Active chemical present in these tablets has molecular formula C7H8ClN3O4S2 with molar mass of 297.74 g/mol and elimination half life of 5.6 to 14.8 hours. These tablets are known to have bioavailability of around 70% with excretion mainly through kidney. They are also prescribed for treatment of congestive heart failure, symptomatic edema, and renal tubular acidosis. For people having high urine calcium level, Hydrochlorothiazide Tablets can reduce risk of kidney stones. They belong to drug class of thiazide and are shown to reduce ability of kidney to retain water.
Product Details:

| | |
| --- | --- |
| Minimum Order Quantity | 100 Box |
| Dose/Strength (ex. 1 mg or 1ml) | 12.5mg, 25mg |
| Packaging Size | 100 Tablets |
| Packaging Type | Strips, Box |
| Usage | Clinical, Hospital, Personal |




We are leading Exporter and Manufacturer of Hydrochlorothiazide Tablets.

Uses

Hydrochlorothiazide is used in fluid retention (edema), heart failure, increased blood pressure and kidney stone

How it works

Hydrochlorothiazide lowers the blood pressure and swelling by removing extra water and electrolytes from the body.

Common side effects

Headache, Nausea, Increased blood uric acid, Decreased potassium level in blood, Glucose intolerance, Altered blood lipids

Hydrochlorothiazide Tablets exporter, Hydrochlorothiazide Tablets manufacturer

Hydrochlorothiazide Tablets supplier, Hydrochlorothiazide Tablets manufacturer in India,

Hydrochlorothiazide Tablets exporter in India.