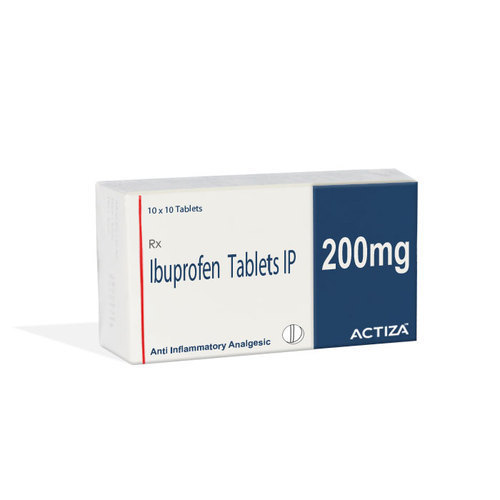 Ibuprofen Tablets
Product Description
Ibuprofen Tablets are non-steroidal anti-inflammatory drugs that are indicated to provide relief from pain & inflammation. They show good effectiveness in painful menstrual periods, migraine headaches, and arthritis. These tablets show bioavailability of 80 to 100% with 98% protein binding ability and elimination half life of 2-4 hours. They are also suitable to be prescribed for treatment of fever and for certain inflammatory diseases including juvenile idiopathic arthritis and patent ductus arteriosus. Ibuprofen Tablets are metabolized in liver with help of CYP2C9 and gets excreted mainly in urine. They are considered as nonselective COX inhibitors with ability to inhibit both COX-1 and COX-2.
Product Details:

| | |
| --- | --- |
| Minimum Order Quantity | 100 Box |
| Product Type | Finished Product |
| Usage | Commercial, Clinical, Hospital, Personal |

We are leading exporter and manufacturer of Ibuprofen Tablets.

Uses

Ibuprofen is used in the treatment of fever, headache, migraine, Patent ductus arteriosus (PDA), rheumatoid arthritis, muscular pain, dental pain, menstrual pain and nerve pain

How it works

Ibuprofen blocks the release of certain chemical messengers that are responsible for inflammation, pain, and fever.

Common side effects

Nervousness, Flatulence, Abdominal bloating, Constipation, Diarrhoea, Dizziness, Ringing in ear.

Ibuprofen Tablets exporter, Ibuprofen Tablets manufacturer

Ibuprofen Tablets supplier, Ibuprofen Tablets manufacturer in India,

Ibuprofen Tablets exporter in India.