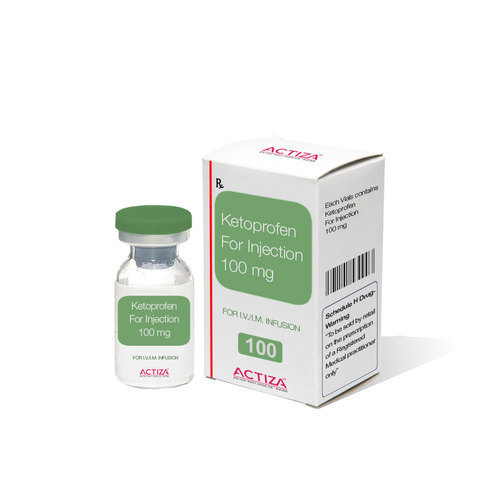 Ketoprofen Injection
Product Description
Ketoprofen Injection belongs to class of non-steroidal anti-inflammatory drugs having potent fever and pain reducing ability. Administered via intravenous route, it is known to provide rapid and sustained release of drug in body without increasing its level. Ketoprofen has chemical formula C16H14O3 with molecular weight of 254.281 g/mol. It is known to show excellent protein binding ability of about 99% with elimination half life of 2-2.5 hours. Ketoprofen Injection is known to work by inhibiting both COX-1 & COX-2 enzymes reversibly that are responsible for production of pain & inflammation causing prostaglandins.
Product Details:

| | |
| --- | --- |
| Minimum Order Quantity | 1000 Unit |
| Usage | Commercial, Clinical, Hospital |




We are leading Exporter and Manufacturer of Ketoprofen Injection.

Uses

Ketoprofen is used in the treatment of osteoarthritis, gout, rheumatoid arthritis, menstrual pain and muscular pain

How it works

Ketoprofen blocks the release of certain chemical messengers that are responsible for inflammation, pain, and fever.

Common side effects

Nausea, Heartburn, Indigestion, Stomach pain, Vomiting

Ketoprofen Injection exporter, Ketoprofen Injection manufacturer

Ketoprofen Injection supplier, Ketoprofen Injection manufacturer in India,

Ketoprofen Injection exporter in India.