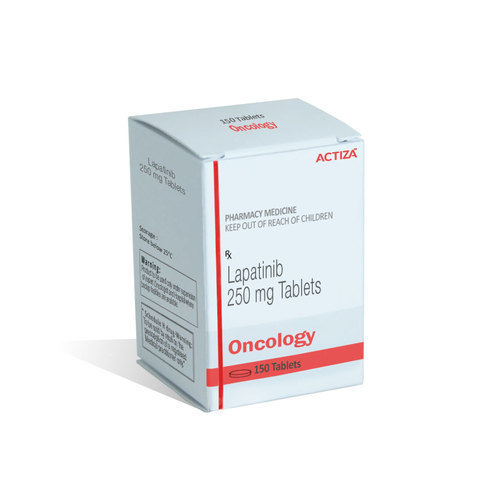 Lapatinib Tablet
Product Description
Lapatinib Tablet is anti-cancer medicine which is also suitable to be used for treatment of solid tumors. Considered as dual tyrosine kinase inhibitor, it is indicated for breast cancer in combination with therapy for HER2/neu. This tablet is known to work by interrupting epidermal growth factor receptor and HER2/neu. It gets metabolized in liver by CYP3A4 with protein binding ability of more than 99%. Lapatinib has molecular formula C29H26ClFN4O4S with molar mass of 581.058 g/mol. Lapatinib Tablet has elimination half life of about 24 hours with multiple doses with excretion mainly in feces.
Lapatinib Tablet
Product Details:
| | |
| --- | --- |
| Minimum Order Quantity | 50 Box |
| Dose | 250 mg |
| Packaging Size | 42 Tablets |
| Packaging Type | Box |
| Usage | Commercial, Clinical, Hospital, Personal |
We are leading Exporter and Manufacturer of Lapatinib Tablet.


Uses
Lapatinib is used in the treatment of breast cancer
How it works
Lapatinib In patients with cancer, a change in DNA (genetic material) triggers a signal which produces abnormal cancer cells. Lapatinib blocks this signal, and thus stops the production of these cancer cells.
Common side effects
Nausea, Headache, Back pain, Breathing difficulty, Rash, Joint pain, Pain in extremity, Insomnia, Vomiting, Abdominal pain, Loss of appetite, Dyspepsia, Hot flushes, Diarrhoea, Cough, Nose bleed, Constipation, Stomatitis
tag
Lapatinib Tablets exporter, Lapatinib Tablets manufacturer