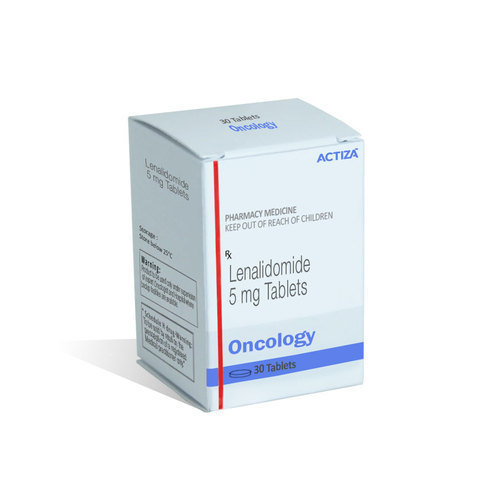 Lenalidomide Tablet
Product Description
Lenalidomide Tablet has been specifically formulated to be used for treatment of multiple myeloma with ability to inhibit angiogenesis & immunomodulation. Lenalidomide is main chemical used in formulation of this tablet having molar mass of 259.261 g/mol with molecular formula C13H13N3O3. It shows very low protein binding ability of 30% with elimination half life of about 3 hours and excretion via kidney. This tablet is highly appreciated for having direct anti-tumor effect with anti-angiogenic and anti-osteoclastogenic activities. Lenalidomide Tablet is derivative of thalidomide with targeted mode of action.
Product Details:
| | |
| --- | --- |
| Minimum Order Quantity | 1000 Box |
| Dose/Strength | 5mg, 10mg, 25mg |
We are leading exporter and manufacturer of Lenalidomide Tablet.
Uses
Lenalidomide is used in the treatment of multiple myeloma and lepra reaction.
How it works
Lenalidomide modulates the activity of body's immune system and helps indirectly attacking the cancer cells. It also stops the growth of blood vessels in cancer.
Common side effects
Headache, Weakness, Nausea, Rash, Breathlessness, Dizziness, Sleepiness, Edema, Loss of appetite, Decreased white blood cell count, Decreased calcium level in blood, Weight gain, Muscle weakness, Fatigue, Fever, Anxiety, Blood clots , Dry skin, Weight loss, Confusion, Decreased white blood cell count (neutrophils), Neuropathy, Constipation, Tremor
tag
Lenalidomide Tablet exporter, Lenalidomide Tablet manufacturer
Lenalidomide Tablet supplier, Lenalidomide Tablet manufacturer in India,
Lenalidomide Tablet exporter in India.