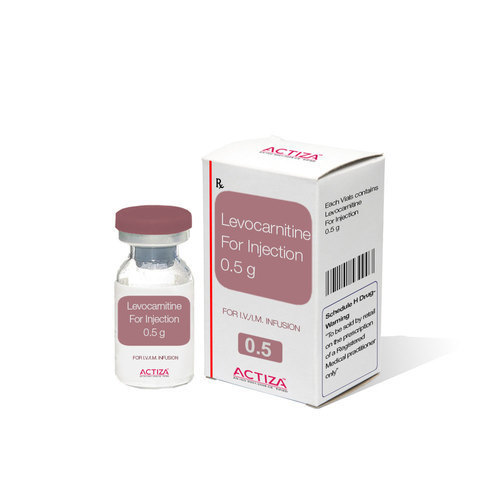 Levocarnitine Injection
Product Description
Levocarnitine Injection is prescribed for treatment of carnitine deficiencies. Active compound of this injection is known to serve as a carrier molecule which transports long-chain fatty acids across inner mitochondrial membrane. Levocarnitine has chemical formula C7H15NO3 with molar mass of 161.20 g/mol. Levocarnitine Injection is an amino acid derivative which is administered intravenously by experienced physician or doctor. It is known to have targeted mode of action with no adverse side effects.
Product Details:
| | |
| --- | --- |
| Minimum Order Quantity | 1000 Unit |
| Dose/Strength | 500mg/5ml |
| Packaging Size | 5 ml |
| Packaging Type | Vial |
We are leading Exporter and Manufacturer of Levocarnitine Lyophilized Injection.
Uses
Levocarnitine is used in the treatment of nutritional deficiencies
How it works
Levocarnitine belongs to the class of medications called as amino acid derivative. It works by improving the low levels of carnitine in the body.
Common side effects
Nausea, Palpitations, Paresthesia (tingling or pricking sensation), Peripheral edema, Gastrointestinal discomfort, Anemia, Muscle pain, Bone pain, Bronchitis, Cough, Diarrhoea, Gastritis, Headache, Increased calcium level in blood, Increased blood pressure, Muscle weakness, Tachycardia, Vertigo, Vomiting.
Levocarnitine Injection exporter, Levocarnitine Injection manufacturer
Levocarnitine Injection supplier, Levocarnitine Injection manufacturer in India,
Levocarnitine Injection exporter in India.