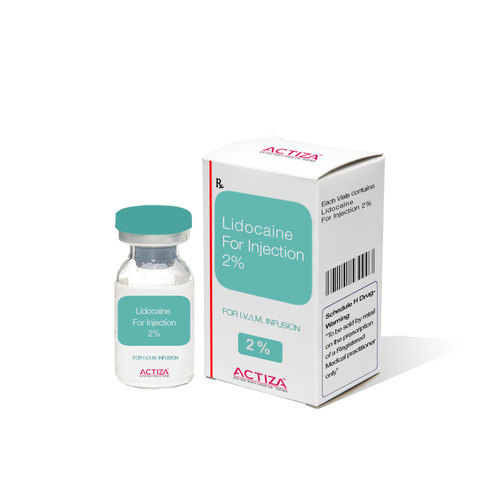 Lidocaine Injection
Product Description
Lidocaine Injection is considered as local anesthetic agent which is prescribed for treatment of ventricular tachycardia. It is known to work by altering signal conduction in neurons and prolonged inactivation of voltage-gated sodium channels. Lidocaine used in its formulation is known to have molecular formula C14H22N2O with molar mass of 234.34 g/mol. It is also considered highly effective as class-1b antiarrhythmic drug. Administered via intravenous route, Lidocaine Injection gets metabolized in liver by CYP3A4 enzyme with elimination half-life of 1.5 to 2 hours. It numbs tissue of a specified area with no sensations.
Product Details:

| | |
| --- | --- |
| Minimum Order Quantity | 1000 Unit |
| Packaging Size | 5 ml Vial |
| Packaging Type | Vial |
| Usage | Clinical, Hospital |
We are leading Exporter and Manufacturer of Lidocaine Injection.

Uses
Lidocaine is used for local anaesthesia (numb tissues in a specific area) and arrhythmias (abnormal heart beat)
How it works
Lidocaine works by blocking pain signals from the nerves to brain which decreases the sensation of pain.
Common side effects
Hormone imbalance, Allergic reaction, Slow growth in children and teenagers, Rash, Itching, Urticaria
Lidocaine Injection exporter, Lidocaine Injection manufacturer
Lidocaine Injection supplier, Lidocaine Injection manufacturer in India,
Lidocaine Injection exporter in India.