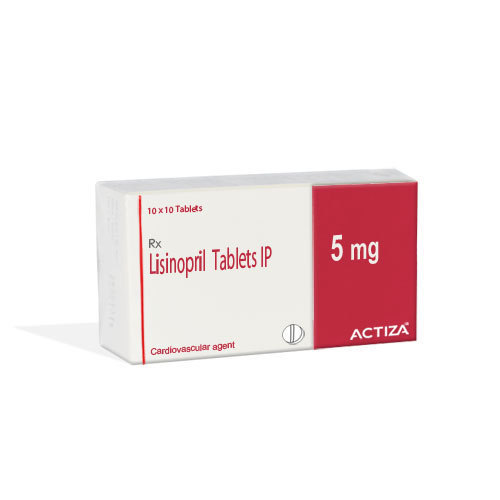 Lisinopril Tablets
Product Description
Lisinopril Tablets are used in the treatment of heart failure as well high blood pressure. It works by reducing stress on the heart and relaxing blood vessel so that blood flows more smoothly and the heart can pump blood more efficiently. This is also used to treat congestive heart failure in adults or to improve survival after a heart attack. It ensures quick recovery and has no side effects if taken as prescribed by a doctor. This medicine works by inhibiting a chemical process in your body that increases the amount of salt and water in your body Lisinopril belongs to a group of medicine called ACE inhibitors. Lisinopril Tablets should not be taken by breastfeeding mother.
Product Details:

| | |
| --- | --- |
| Minimum Order Quantity | 100 Box |
| Dose/Strength (ex. 1 mg or 1ml) | 2.5mg, 5mg, 10mg |
| Packaging Size | 100 Tablets |
| Packaging Type | Strips, Box |
| Usage | Clinical, Hospital, Personal |




We are leading Exporter and Manufacturer of Lisinopril Tablets.

Uses: Lisinopril is used in the treatment of increased blood pressure , heart failure, heart attack and diabetic kidney disease
How it works: Lisinopril relaxes the blood vessels which lowers the blood pressure and also reduces the workload of the heart. As a result, the heart works more efficiently.
Common side effects: Breathlessness, Headache, Dizziness, Fainting, Blurred vision, Increased heart rate, Orthostatic hypotension (sudden lowering of blood pressure on standing),

Lisinopril Tablets exporter, Lisinopril Tablets manufacturer

Lisinopril Tablets supplier, Lisinopril Tablets manufacturer in India,

Lisinopril Tablets exporter in India.