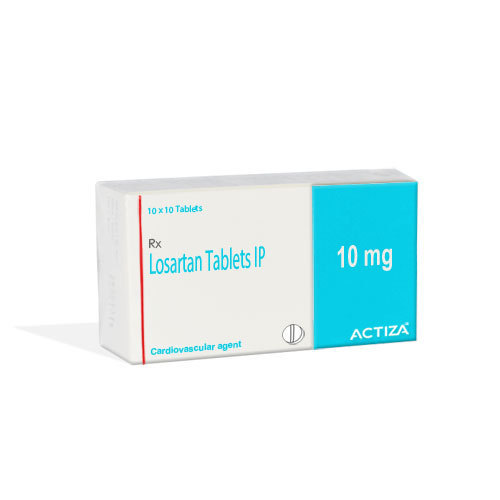 Losartan Tablets
Product Description
Losartan Tablets has been primarily used for treatment of high blood pressure with indication for diabetic kidney disease and heart failure as well. They are competitive angiotensin II receptor type 1 and are known to work by decreasing total peripheral resistance and cardiac venous return. These tablets have bioavailability of 25 to 35% with excellent protein binding ability of about 99.7% and elimination half life of 1.5 to 2 hours. Losartan Tablets get metabolized in liver with help of CYP2C9 & CYP3A4 and are excreted mainly via biliary system. They are also uricosuric agents that are inhibitors of urate transporter 1.
Product Details:

| | |
| --- | --- |
| Minimum Order Quantity | 100 Box |
| Dose/Strength (ex. 1 mg or 1ml) | 25mg, 50mg |
| Packaging Size | 100 Tablets |
| Packaging Type | Strips, box |
| Usage | Clinical, Hospital, Personal |




We are leading Exporter and Manufacturer of Losartan Tablets.

Uses

Losartan is used in the treatment of increased blood pressure , heart failure, heart attack and diabetic kidney disease

How it works

Losartan relax the blood vessels which lower the blood pressure and also reduces the workload of the heart. As a result, the heart works more efficiently

Common side effects

Orthostatic hypotension (sudden lowering of blood pressure on standing), Weakness, Dizziness, Fatigue, Anemia, Renal impairment, Vertigo, Increased potassium level in blood

Losartan Tablets exporter, Losartan Tablets manufacturer

Losartan Tablets supplier, Losartan Tablets manufacturer in India,

Losartan Tablets exporter in India.