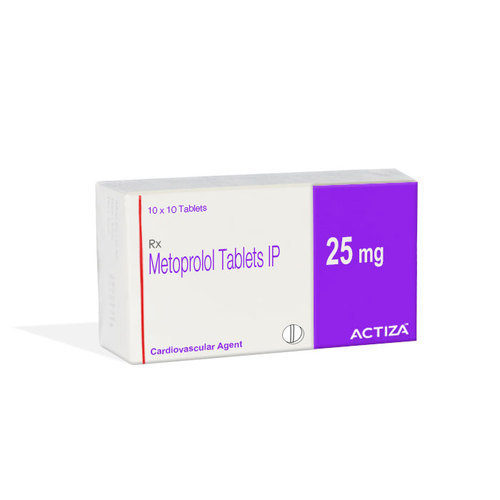 Metoprolol Tablets
Product Description
Metoprolol Tablets are considered as selective beta-1 receptor blockers that are prescribed for treatment of high blood pressure and abnormally fast heart rate. They are highly appreciated for having ability to prevent headaches in people suffering from migraine and heart problems after myocardial infarction. Metoprolol has chemical formula C15H25NO3 with molar mass of 267.37 g/mol. They are known to work by reducing sodium uptake and slowing release of potassium. Metoprolol Tablets have also shown ability to suppress sarcoplasm reticulum Ca++ leak. They have half life of about 3 to 7 hours and get metabolized in liver by enzyme CYP2D6.
Product Details:

| | |
| --- | --- |
| Minimum Order Quantity | 100 Box |
| Application | Cardiovascular |
| Form Of Medicines | Tablets |
| Grade standard | Medicine Grade |
| Type of Medicines | Allopathic |

We are leading Exporter and Manufacturer of Metoprolol Tablets.

Uses


Metoprolol is used for increased blood pressure , angina (chest pain), arrhythmias (abnormal heart beat), heart attack, heart failure and migraine

How it works


Metoprolol blocks the action of certain chemical messengers on the heart and blood vessels. This can lower the blood pressure, abnormally fast heartbeat and reduces strain on the heart following a heart attack.

Common side effects


Nausea, Headache, Fatigue, Dizziness, Palpitations, Abdominal pain, Constipation, Diarrhoea, Breathlessness, Slow heart rate

Metoprolol Tablets exporter, Metoprolol Tablets manufacturer

Metoprolol Tablets supplier, Metoprolol Tablets manufacturer in India,

Metoprolol Tablets exporter in India.