Misoprostol Tablets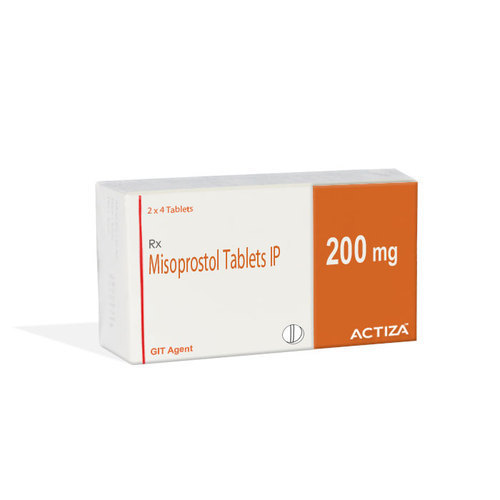 Misoprostol Tablets
Product Description
Misoprostol Tablets find application for causing abortion, treatment of stomach ulcers, and postpartum bleeding. They are considered as prostaglandin analogue that are known to work by binding to myometrial cells and stimulating prostaglandin EP2, EP3, & EP4 receptors. Active compound present in these tablets is known to have chemical formula C22H38O5 and molecular weight of 382.534 g/mol. Upon ingestion, Misoprostol Tablets get extensively absorbed and shows protein binding ability of about 80 to 90%. They are metabolized in liver with elimination half life of 20 to 40 minutes and excretion in urine.
Product Details:

| | |
| --- | --- |
| Minimum Order Quantity | 100 Box |
| Application | Digestive |
| Dose | 200 mg |
| Form Of Medicines | Tablets |
| Grade standard | Medicine Grade |
| Type of Medicines | Allopathic |




We are leading Exporter and Manufacturer of Misoprostol Tablets.

Uses Misoprostol is used in medical abortion and post-delivery bleeding

How it works

Misoprostol increases contractions of the uterus to cause abortion. It can also prevent post-delivery bleeding due to poor contraction of the uterus.

Common side effects

Nausea, Vomiting, Uterine cramps, Diarrhoea, Uterine bleeding , Infection following abortion

Misoprostol tablet exporter, Misoprostol tablet manufacturer

Misoprostol tablet supplier, Misoprostol tablet manufacturer in India,

Misoprostol tablet exporter in India.