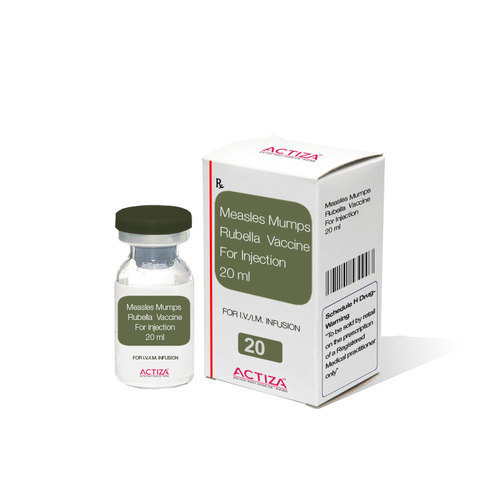 MMR Vaccine
Product Description
The MMR Vaccine prevents against contagious measles, mumps, and rubella (German measles). The primary dose is usually given to kids around nine to fifteen months old, with a second dose at fifteen months to six years old, with a minimum of four weeks between the doses. MMR Vaccine is additionally suggested to those that don't have proof of immunity, those with well controlled HIV/AIDS, and inside seventy two hours of exposure to measles among those that are incompletely immunized.
Product Details:
| | |
| --- | --- |
| Minimum Order Quantity | 1000 Unit |
| Usage | Clinical, Hospital |
We are leading exporter and manufacturer of MMR Vaccine.
Uses
Measles Virus Vaccine is used to prevent measles
How it works
Measles Virus Vaccine is a vaccine.It helps develop immunity by initiating a mild infection. This type of infection does not cause illness, but it does stimulate the body's immune system to produce antibodies to protect against any future infections .
Common side effects
Vomiting, Nausea, Application site redness of skin, Application site irritation, Muscle pain, Joint pain, Diarrhoea, Fever, Dizziness, Headache.
Tag:

MMR Vaccine Vaccine exporter, MMR Vaccine Vaccine manufacturer
MMR Vaccine Vaccine supplier, MMR Vaccine Vaccine manufacturer in India,
MMR Vaccine Vaccine exporter in India.