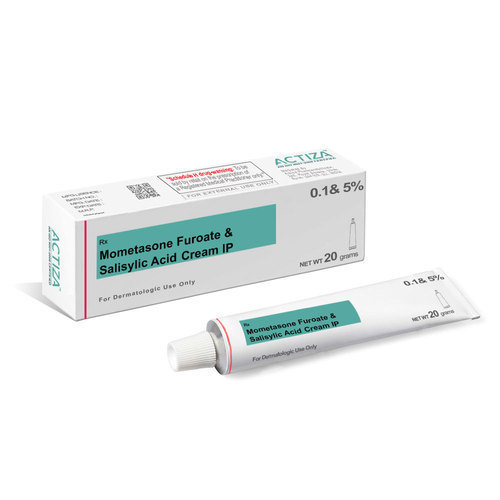 Mometasone Furoate And Salisylic Acid Cream
Product Description
Product Details:
| | |
| --- | --- |
| Minimum Order Quantity | 1000 Unit |
| Dosage Form (If Applicable) | Creams/Ointments |
| Dose | 0.1% + 3.5% |
| Packaging Size | 10 gm |
| Product Type | Finished Product |
| Usage | Commercial, Clinical, Hospital |
We are leading exporter and manufacturer of Mometasone Furoate And Salisylic Acid Cream.
Uses
Mometasone furoate 0.1 %w/w cream is used in the treatment of severe allergic reaction, allergic disorders, asthma, cancer, rheumatic disorder, skin disorders and eye disorders
How it works
Mometasone furoate 0.1 %w/w cream belongs to a category of drugs called as corticosteroids. It works by reducing the production of substances in the body that cause inflammation and allergies.
Common side effects
Muscle disorders, Acne, Changes in skin color, Electrolyte imbalance, Altered bone growth, Skin scar, Abscess, Skin infection, Redistribution/accumulation of body fat, Bone degradation, Itching, Skin irritation, Dry skin, Behavioural changes, Burning sensation, Increased blood pressure, Increased glucose level in blood, Cataract, Increased risk of infection
tag
Mometasone Furoate And Salisylic Acid Cream exporter, manufacturer, supplier in India.