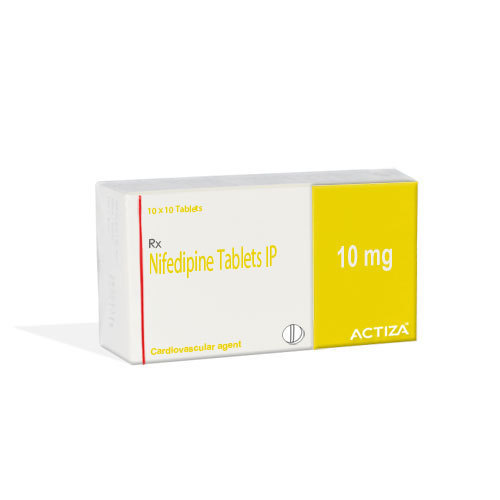 Nifedipine Tablets
Product Description
Nifedipine Tablets are consumed to treat high blood pressure, angina, and premature labor. They are considered as calcium channel blockers showing non-specific activity for other voltage-dependent calcium channels. These tablets have protein binding ability of 92 to 98% with bioavailability of 45 to 56% and 2 hours of elimination half life. They are known to be the premium choice for treatment of prinzmetal angina and high BP during pregnancy. Nifedipine Tablets are metabolized in liver & GI tract with excretion from kidney. Nifedipine shows molecular weight of 346.335 g/mol and chemical formula C17H18N2O6.
Product Details:

| | |
| --- | --- |
| Minimum Order Quantity | 100 Box |
| Dose/Strength (ex. 1 mg or 1ml) | 10 mg, 20 mg |
| Packaging Size | 100 Tablets |
| Packaging Type | Strips, Box |
| Usage | Clinical, Hospital, Personal |




We are leading Exporter and Manufacturer of Nifedipine Tablets.

Uses

Nifedipine is used in the treatment of increased blood pressure , angina (chest pain) and hypertensive emergency

How it works

Nifedipine is a calcium channel blocker. It blocks the action of calcium on the heart and blood vessels. This can lower the blood pressure, abnormally fast heartbeat and reduces strain on heart following a heart attack.

Common side effects

Ankle swelling, Headache, Dizziness, Palpitations, Sleepiness, Nausea, Edema, Abdominal pain, Fatigue, Flushing

Nifedipine Tablets exporter, Nifedipine Tablets manufacturer

Nifedipine Tablets supplier, Nifedipine Tablets manufacturer in India,

Nifedipine Tablets exporter in India.