Olanzapine Tablets IP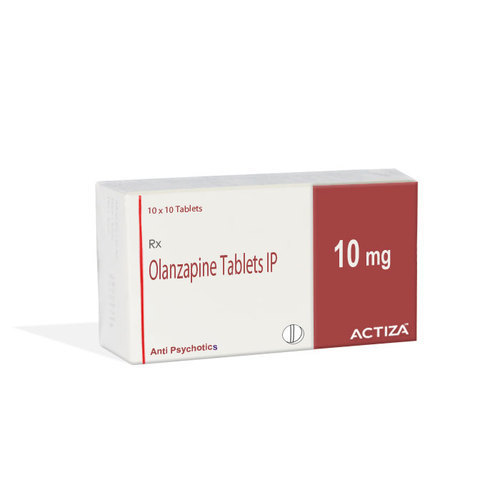 Olanzapine Tablets IP
Product Specifications
As per prescription

Women, Adults, Aged Person
Product Description
Olanzapine Tablets IP are antipsychotic medications that are indicated for bipolar disorder & schizophrenia. They are known to work by antagonizing dopamine D2 receptor and show very high affinity for 5-HT2Aserotonin receptors. Olanzapine has chemical formula C17H20N4S with molar mass of 312.439 g/mol with bioavailability of 87%. These tablets show excellent protein binding ability of around 93% with metabolism by CYP1A2 in liver. They get excreted in urine & feces having elimination half life of 33 hours. Olanzapine Tablets IP are considered to have highest affinity for P-glycoprotein as compared to any other second generation antipsychotic.
Product Details:
Minimum Order Quantity
-
1000 Box
Usage - Industrial, Commercial
We are leading Exporter and Manufacturer of Olanzapine.
Uses
Olanzapine is used in the treatment of schizophrenia (mental disorder in which patient interpret reality abnormally) and mania (abnormally elevated mood)
Olanzapine works by modulating the action of certain chemical messengers in the brain that affects thoughts and mood.
Sleepiness, Weight gain, Increased prolactin level in blood, Orthostatic hypotension (sudden lowering of blood pressure on standing) .
Olanzapine Tablets exporter, Olanzapine Tablets manufacturer
Olanzapine Tablets supplier, Olanzapine Tablets manufacturer in India,
Olanzapine Tablets exporter in India.
Trade Information
Asia, Australia, Central America, North America, South America, Eastern Europe, Western Europe, Africa

All India