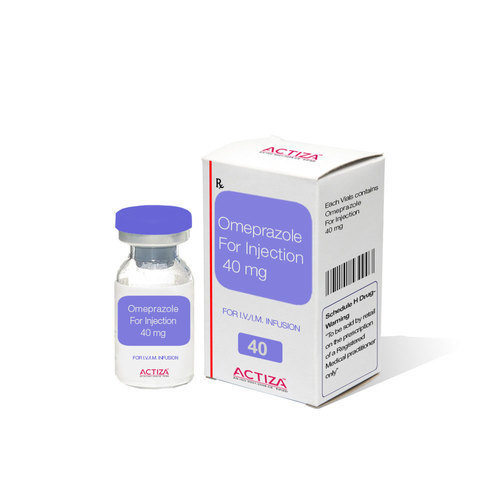 Omeprazole Injection
Product Description
Omeprazole Injection is administered via IV or IM routes by trained physician or nurse. It is indicated to provide relief from peptic ulcer disease, GERD, and eosinophilic esophagitis. This injection is known to work by suppressing gastric acid production by binding to proton pump after getting absorbed through stomach's parietal cells. It is known to show bioavailability of 35 to 76% with 95% of protein binding ability and elimination half life of around 1.2 hours. It is also suitable to be administered for providing relief from upper gastrointestinal bleeding. Omeprazole Injection is admired for having ability to inhibit both stimulated & basal acid secretion.
Product Details:

| | |
| --- | --- |
| Minimum Order Quantity | 100 Box |
| Packaging Size | 100 Capsules |
| Packaging Type | Box |
| Strength (mg) | 20mg, 40mg |
| Usage | Industrial, Commerical, Laboratory |

We are leading Exporter and Manufacturer of Omeprazole Capsules.

Uses Omeprazole is used in the treatment of acidity, heartburn, intestinal ulcers and stomach ulcers How it works Omeprazole lowers the acid production in the stomach.Common side effects Nausea, Headache, Abdominal pain, Diarrhoea, Constipation, Flatulence

Omeprazole tablet exporter, Omeprazole tablet manufacturer

Omeprazole tablet supplier, Omeprazole tablet manufacturer in India,

Omeprazole tablet exporter in India.