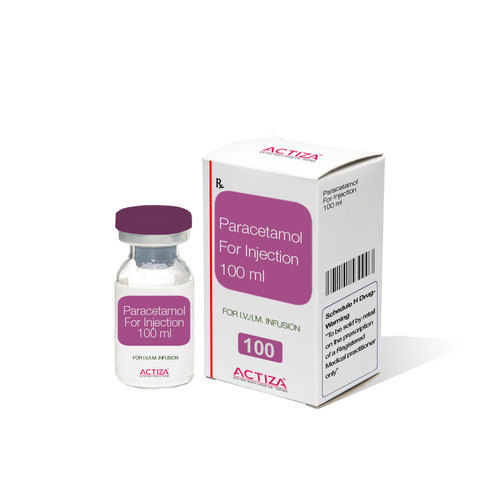 Paracetamol Injection
Product Description
Paracetamol Injection is administered via intravenous route and is indicated to provide relief from pain & fever caused due to certain health issues. Paracetamol used as active chemical in this injection has molecular formula C8H9NO2 with bioavailability of 63-89% and low protein binding ability of 10 to 25%. It is known to work by interfering with COX activity to exert its analgesic property assuring faster relief. This injection must be administered under prescription to eliminate any chances of adverse effects. Paracetamol Injection has elimination half life of about 1-4 hours and gets excreted in urine.
Product Details:

| | |
| --- | --- |
| Minimum Order Quantity | 1000 Unit |
| Dose/Strength (ex. 1 mg or 1 ml) | 1000mg/100ml |
| Usage | Clinical, Hospital |




We are leading exporter and manufacturer of Paracetamol Injection.

Uses

Paracetamol is used in fever, headache, pain during menstruation, arthralgia, myalgia, dental pain and post operative pain.

How it works

Paracetamol blocks the release of certain chemical messengers in the brain that is responsible for pain and fever.

Common side effects

Allergic reaction, Liver damage

Paracetamol Injection exporter, Paracetamol Injection manufacturer

Paracetamol Injection supplier, Paracetamol Injection manufacturer in India,

Paracetamol Injection exporter in India.