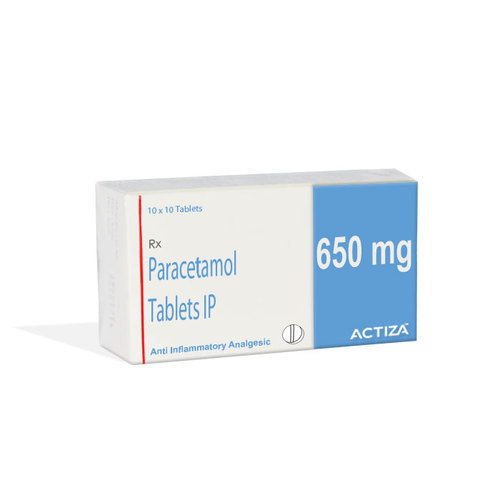 Paracetamol Tablets
Product Description
Paracetamol Tablets are known for having antipyretic and mild analgesic properties. They are prescribed for providing relief from fever & pain caused due to various health conditions. These tablets are known to work by selectively inhibiting several activities of cyclooxygenase enzyme to exert their curative effects. They have bioavailability range of 63 to 89% with low protein binding capacity of 10 to 25%. Metabolism of Paracetamol Tablets takes place in liver with onset of action after 37 minutes of oral consumption. They show elimination half life of 1-4 hours with excretion mainly in urine.
Product Details:
Minimum Order Quantity : 100 Box
Dose : 250 mg, 325 mg, 500 mg, 650 mg
Type : Pill

Uses : Paracetamol is used in the treatment of headache, joint pain, dental pain, nerve pain, muscular pain, menstrual pain, migraine and fever

How it works : Paracetamol blocks the release of certain chemical messengers that are responsible for inflammation, pain, and fever.

Common side effects : Skin redness, Allergic reaction, Shortness of breath, Running nose, Nausea